Tissue-sparing tumour treatment in a patient with a single kidney
In a patient with a single, functioning kidney, the advantages of navigated microwave ablations that allow the destruction of the tumor while protecting surrounding tissue and preserving the health of the remaining organ are particularly pertinent.
Clinical benefits of the method include:
Minimized risk of the intervention through pinhole treatment
Rapid patient recovery and discharge within 1-2 days
Here we show that CAS-One enables the minimally invasive and targeted treatment of kidney tumors.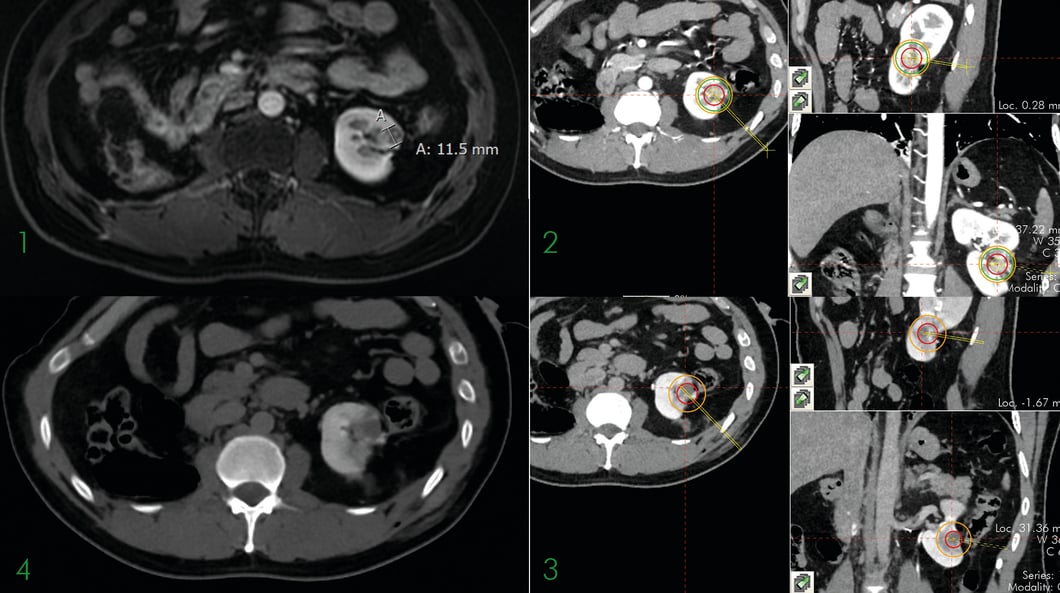 1. MRI scan of the kidney with tumor before intervention
2. CT scan before ablation with tumor (red), safety margin (yellow) and planned ablation volume (green)
3. CT scan directly after ablation with ablation zone (hypodens) and planned safety margin (yellow)
4. CT scan after ablation with complete tumor treatment
---
Name: MD Levent Kara (EBIR, FCIRSE)
---
Institution: Municipal Hospital Triemli, Zürich
---
Patient age and sex: 42 years, male
---
Initial condition:
S/P tumor nephrectomy right 1.4.2016 pT2Nx
S/P partial kidney resection left because of swelling kidney left on 5.11.2016
Wedger resection of 2 pulmonary metastases July 2018
Current: Recurrent lesion on the left kidney
High surgical risk for the patient during a conventional procedure. Sacrifice of significant healthy tissue with resection
Navigated microwave ablation is less invasive and tissue-sparing treatment
Ablation preparation:
The kidney's location inside a layer of adipose tissue makes the organ highly mobile in normal, physiological states during a minimally invasive intervention, compared to an open procedure.
To mitigate against these procedural risks, these steps should be considered:.
Patient positioning - Stable positioning must be ensured. The patient must be secured on the vacuum mattress to allow orthogonal access to the lesion. This avoids the risk of slipping off the kidney capsule with the ablation needle.
Ablation needle – Thin needles be chosen to facilitate easier penetration through the kidney capsule.
Treatment:
Precise, navigated microwave ablation of recurrence at the left kidney
---
Result:
Good clinical outcome directly after ablation
No adverse effects or recurrences during follow-up inspection
Learn more about the stereotactic navigation system CAS-One IR.