Tissue Sparing Ablation of Liver Metastasis close to Colon
CT-guided microwave ablation of two liver metastasis in the left hepatic lobe in segments III and IVa. Due to the patient history, a tissue-sparing procedure was indicated to keep options for further treatment open. At the same time, the ablation in segment III (shown in this case report) in close proximity to the colon requires high precision of the procedure in order to achieve a complete ablation of the malignant tissue without harming the colon.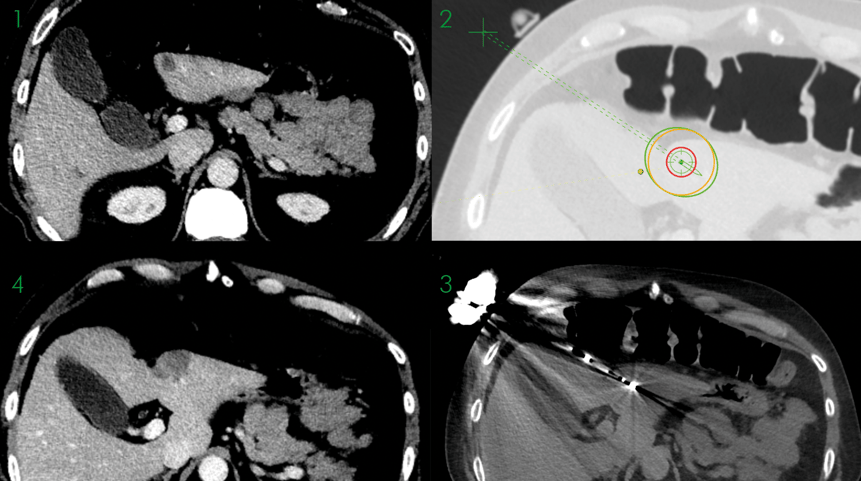 1. Pre intervention CT scan showing the lesion in segment III of the liver
2. Lung window image in CT showing the planned intervention with the tumor (red), the safety margin (yellow), the ablation area (green) and adjacent colon
3. Axial view with trajectory and lesion in segment IVa
4. Clear markings of the necrotic area at the liver margin
---
Name: Prof. Dr. Christoph L. Zollikofer
---
Institution: Kantonsspital Baden, Baden, Switzerland
---
Patient age and sex: 56 years, male
---
Initial condition:
12 - 2018 Initial diagnosis: primary hepatic and lymphogenic metastatic adenocarcinoma of the sigmoid, TNM stage: pT3, pN2a (4/40), G2, L1, V0, pN1, M1
01 - 2019 Laparoscopic hemicolectomy left and appendectomy
Second colon carcinoma in the area of the descendosigmoidal transition, pT1, pN2a (4/40), G2, L0, V0, PN
02 - 2019 Conversion chemotherapy ongoing (04 - 2019)


---
Treatment:
The patient is assigned to a bilateral interventional and surgical procedure. First, microwave ablation of the liver metastasis in the left hepatic lobe in segments III (shown in this report) and IVa, followed by a right-sided portal vein embolization preoperatively to enlarge the left hepatic lobe

---
Result:
Metabolically inactive ablated metastasis in segment III
Suspected recurrence of metastasis adjacent to the ablated metastasis in segment IVa
No evidence of extrahepatic metastasis


---
Learn more about the stereotactic navigation system CAS-One IR.