Radiofrequency Ablation of HCC close to the Liver Dome
Due to the unfavorable location of the HCC in Segment VIII, the MDT didn't see a surgical resection fit as treatment option. Therefore, a percutaneous ablation was chosen to treat this patient with a curative intent. As the lesion is high up in the Liver, without the guidance of CAS-One IR this case would be way more complex, with higher risk of complications.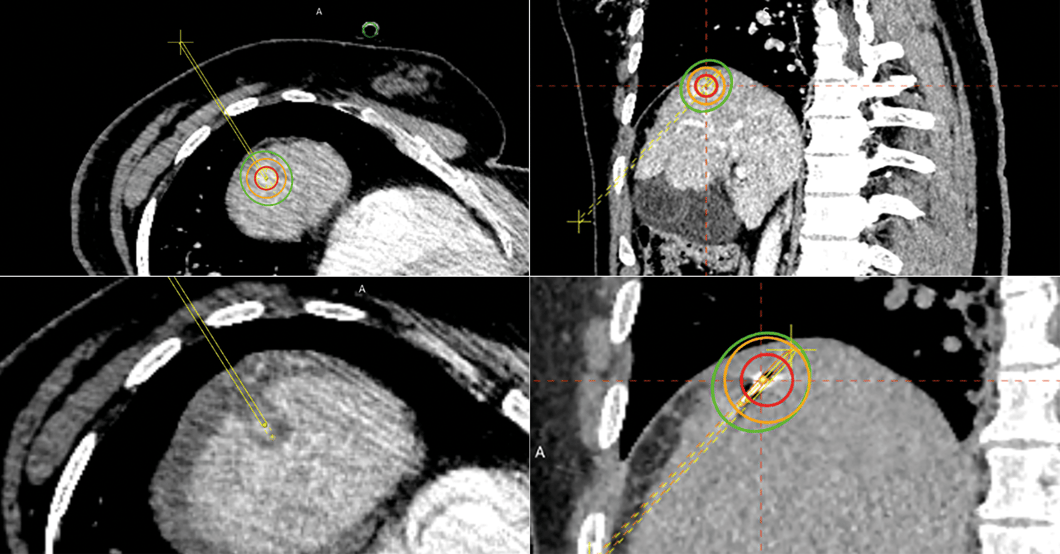 Top row: Trajectory Planning (axial/sagittal planes)
Bottom right: Needle validation, coronal view
Bottom left: Ablation validation, axial view
---
Name: Dr. Mohnish Palanisamy
---
Institution: Global Hospital, Chennai (India)
---
Patient age and sex: 53 years, male
---
Initial condition:
Patient was under close surveillance due to chronic liver disease (Child Pugh A), treated years ago
A HCC lesion was detected in a routine screening
Patient doesn't have any symptoms nor any comorbidities
---
Treatment:
Ablation was chosen as per the BCLC guidelines. Even thought the patient did not have comorbidities for surgical treatment.
However, Surgical resection of Segment VIII would be technically challenging when compared to ablative options
CT-guidance with CAS-One IR was chosen due to the off-plane and caudal-cranial trajectory (15 cm.) to the small lesion (2 cm.) in Segment VIII close to the diaphragm. The aim was to do this with a single shot approach
The lesion was not visible on ultrasound and freehand manipulation of the needle could be time consuming, which results in more radiation exposure for physician and patient
Treatment plan: percutaneous ablation combined with chemotherapy (Sorafenib)
---
Result:
Lesion treated with 10 minutes of RF Ablation, showing no residual
Patient will be reassessed with follow up imaging (4-6 weeks prior to procedure)
The Patient is really glad to have minimally invasive Quality Ablation by the Interventional Radiology Department compared to surgical liver resection, where quality of life is key
---
Learn more about the stereotactic navigation system CAS-One IR.