Tissue sparing Microwave and Cryoablation of a Kidney
Tissue sparing local Quality Ablation treatment of a patient with a previous nephrectomy: Combination of microwave and cryoablations in two sessions to destroy all lesions.
Video of cryoablation of left kidney with hydrodissection to protect the adjacent colon.
---
Name: Dr. Nando Mertineit
---
Institution: Inselspital Bern (Switzerland)
---
Patient age and sex: 58 years, male
---
Initial condition:
Patient with a nephrectomy (right side) after multiple lesions showing papillary renal cell carcinoma Typ I, focally Typ II, pT1a (m), pNX, L0, V0, Pn0, G2, R0
Suspicion of family renal cell carcinoma while missing variants in genes

VHL, MET, FH, SDHB, SDHC, SDHD, FLCN and PTEN (genetic examination Inselspital 04/2017)

Arteriel hypertension
MRI scan of 2019 shows several lesions in the left kidney which increase slightly in volume in the follow up scan in December 2020
---
Treatment:
Local treatment was chosen as the patient has only one kidney left and as there are several lesions, it is required to spare as much healthy tissue as possible
For the stereotactical high precision placement of the needles, CAS-One IR is used
MWA is performed for 3 lesions close together in the kidney lower pole, follow up sonogram shows no suspected focal contrast enhancement, the other lesions seen in the MRI scan cannot be differentiated
In another session the last 3 lesions are treated with cryoablation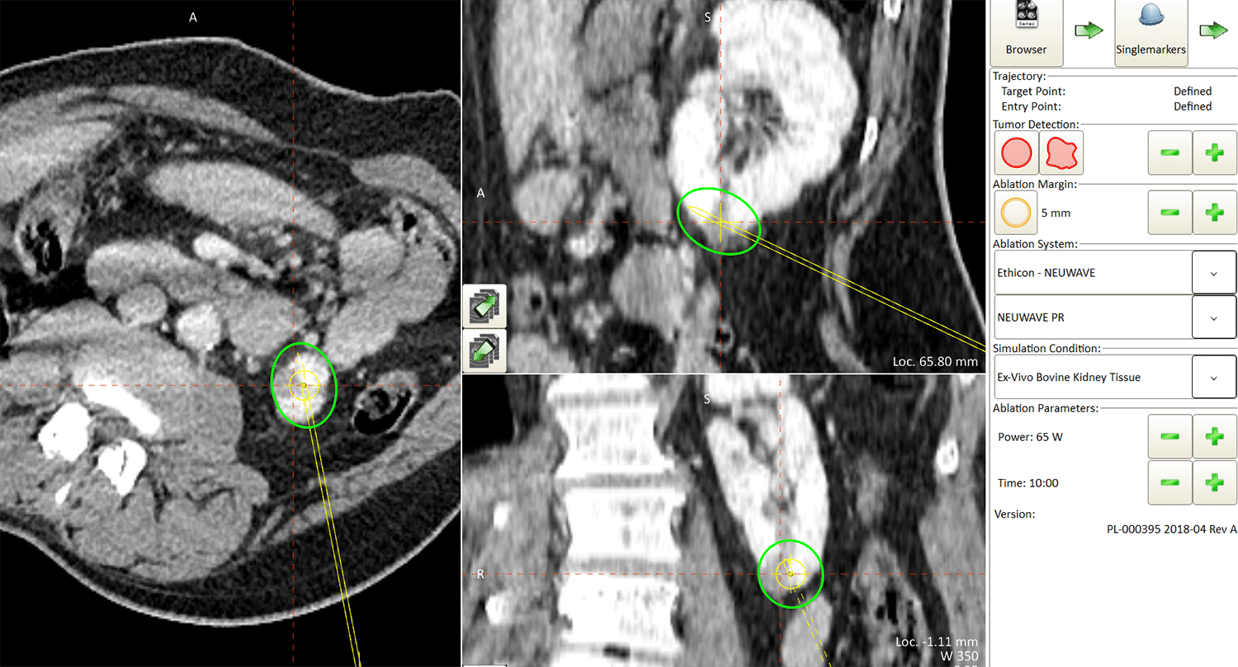 Planning of the microwave ablation of the 3 lesions in the kidney pole.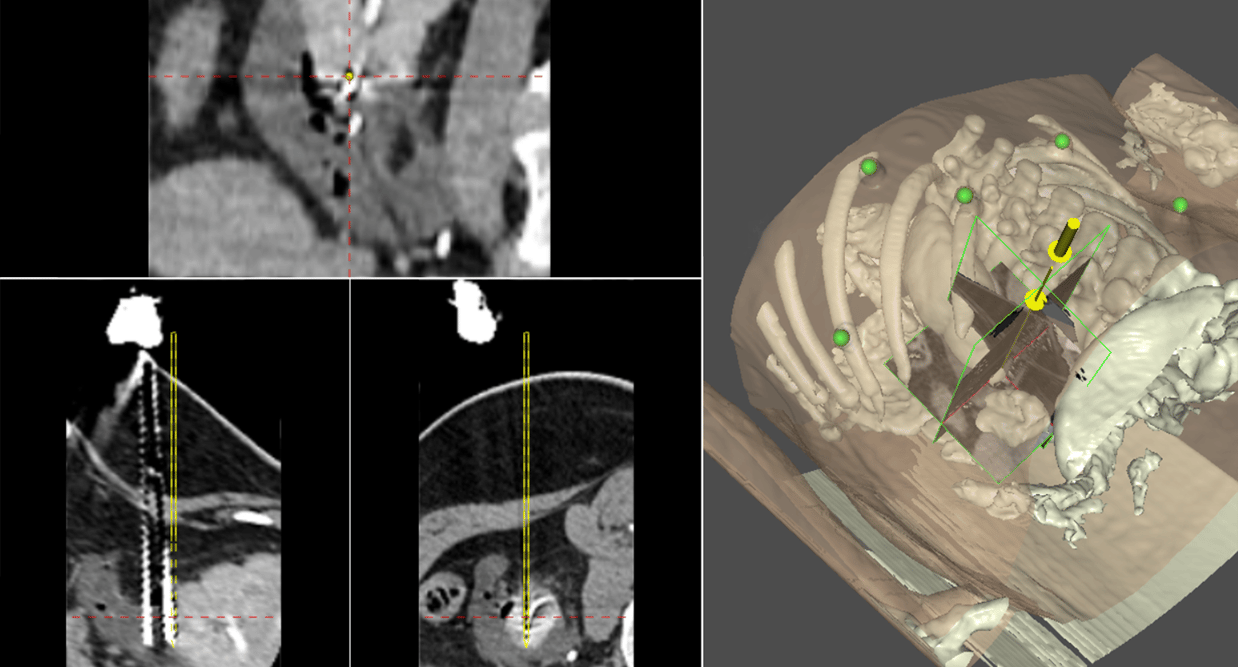 Placement of microwave applictor and catheter for hydrodissection to avoid harming of nearby bowel.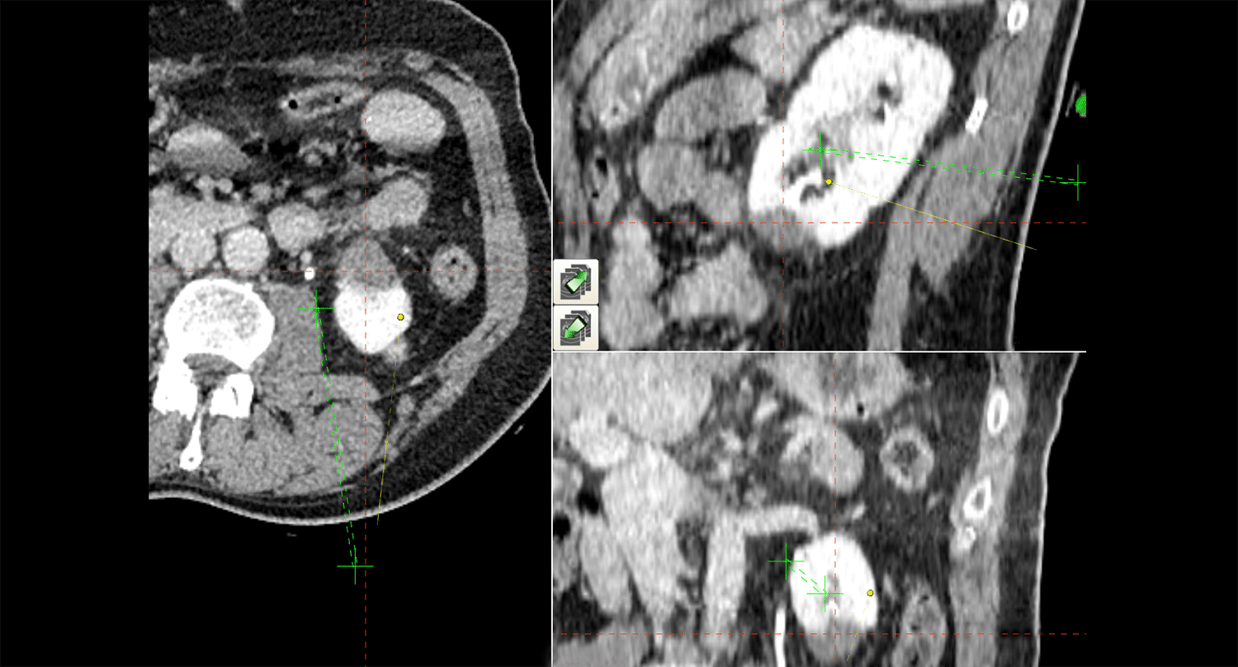 MWA ablation zone is clearly visible in the planning scan for the cryoablation treatment.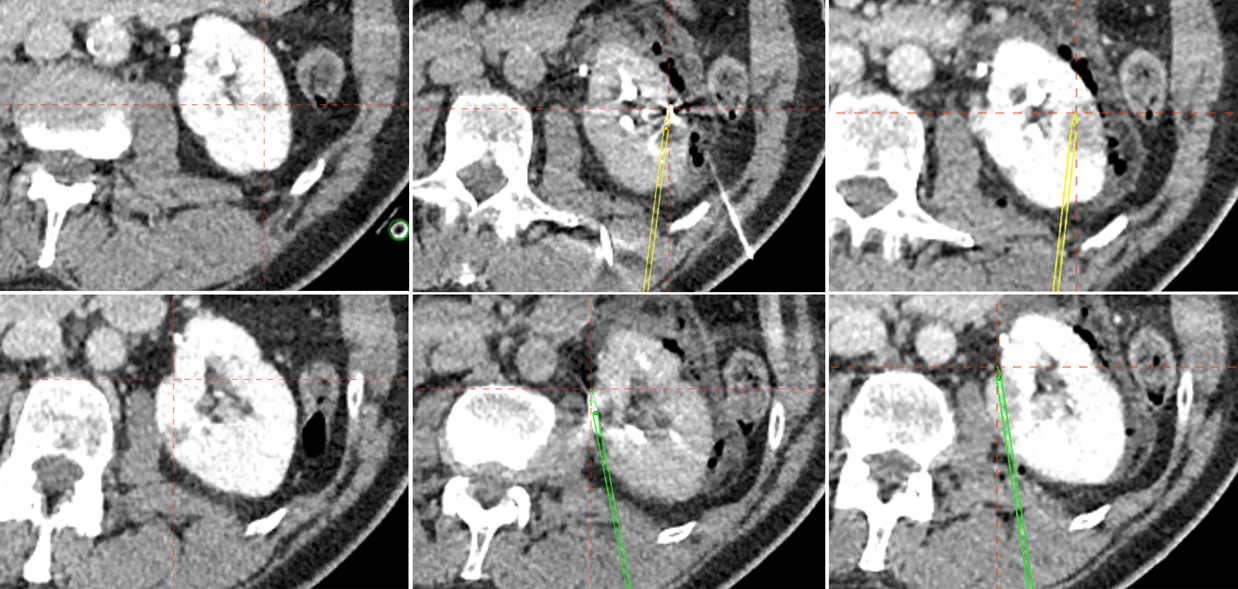 Top row: Lesion in planning scan, treatment (with iceball active and hydrodissection) and scan after cryoablation of lesion
Bottom row: 2 lesions in planning scan, treatment (with iceball during imaging) and post intervention scan of lesions
---
Result:
The last CT images shows good coverage of the lesions, with cryoablation leaving most of the kidney tissue healthy
A day after the treatment the patient could go home. The overall parameters of the kidney were inconspicuous, he was afebrile, without any complaints
A follow up MRI scan planned


Learn more about the stereotactic navigation system CAS-One IR.