Combined IRE and MWA for two local HCC recurrences in Seg. IVa + VIII
Multimodal Quality Ablation treatment of two HCC recurrences in liver segments IVa & VIII with Irreversible Electroporation and Microwave Ablation in one continuous session.
Watch the video
---
Name: Dr. Lukas Lürken
---
Institution: University Hospital Regensburg (Germany)
---
Patient age and sex: 59 years, male
---
Initial condition:
10/2017: Diagnosis HCC
11/2017: R0-resection in Seg. VI
Pathology: HCC G1/BCLC A
2018: Followed by Antiviral Hep-C-therapy that showed the patient maintained good liver function and no transplantation was necessary
02/2020: HCC recurrence, atypical resection Seg. III & II
02/2021: MRI shows HCC suspect recurrence in Seg. IVa (1,6 x 1,1 cm) and Seg. VIII (0,7 x 0,5 cm)

Tumour board decision: Radiologic Interventional Oncology-Treatment
---
Treatment:
Due to the proximity to the bile duct and portal venous vessel inclusion in Seg. IVa, a decision for stereotactic navigated IRE procedure with 4 planned needle trajectories was taken
A 5th trajectory to take a biopsy prior to treatment was planned
CAS-One IR guided Microwave Ablation in Seg. VIII during the same session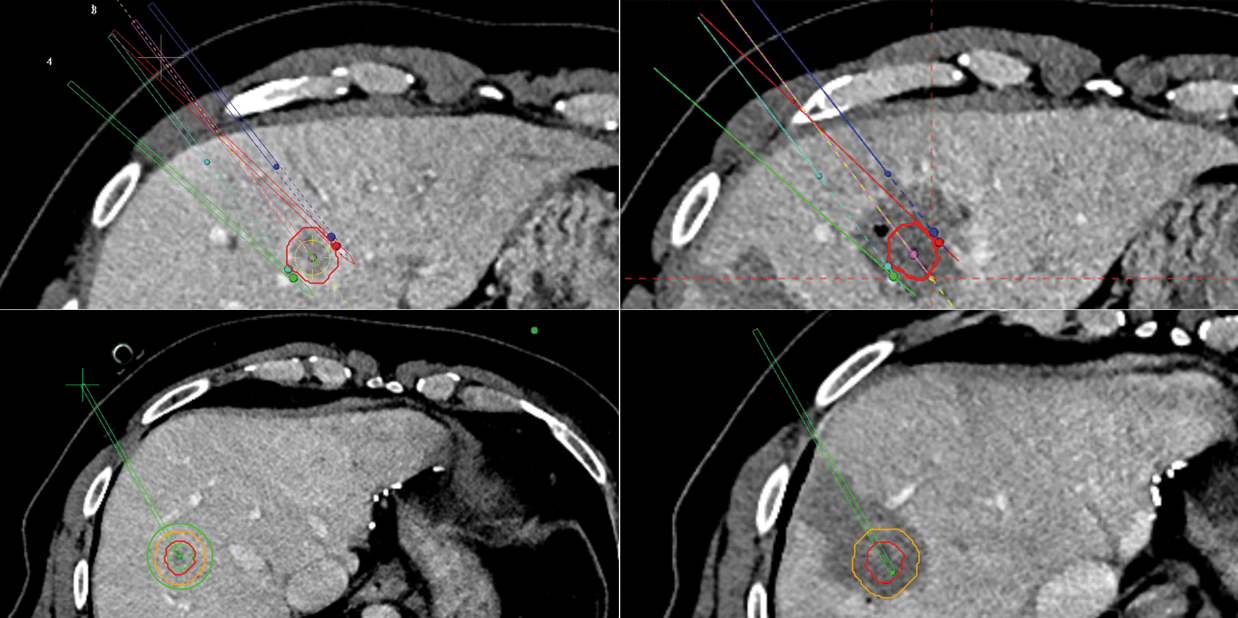 Top row: IRE planning scan and post-ablation scan
Bottom row: MWA planning scan and post-ablation scan
---
Result:
In this case, the use of stereotactic navigation was mandatory:

IRE requires precise needle placement taking anatomical structures in account. With the help of CAS-One IR, planning and placement of the probes was possible in one step
Implementing multimodal treatment (IRE/MWA/Biopsy) options in one session is a great advantage and prevents further sessions
Initial post-ablation scan shows technical success in both lesions
A total of 6 needles were planned, navigated and validated
Total procedure time: 2:30h
---
Learn more about the stereotactic navigation system CAS-One IR.