Stereotactic navigated ablation of two deep metastatic liver lesions
Microwave ablation of two deeply situated liver tumours in segments IV and VII. Interoperative ablation margin control assessed the ablation volume and confirmed the need for reablation. A CT-MRI fusion was performed for the 'invisible' segment VII lesion on CT. Percutaneous microwave ablation was selected as the safer, non-invasive treatment option over surgical resection.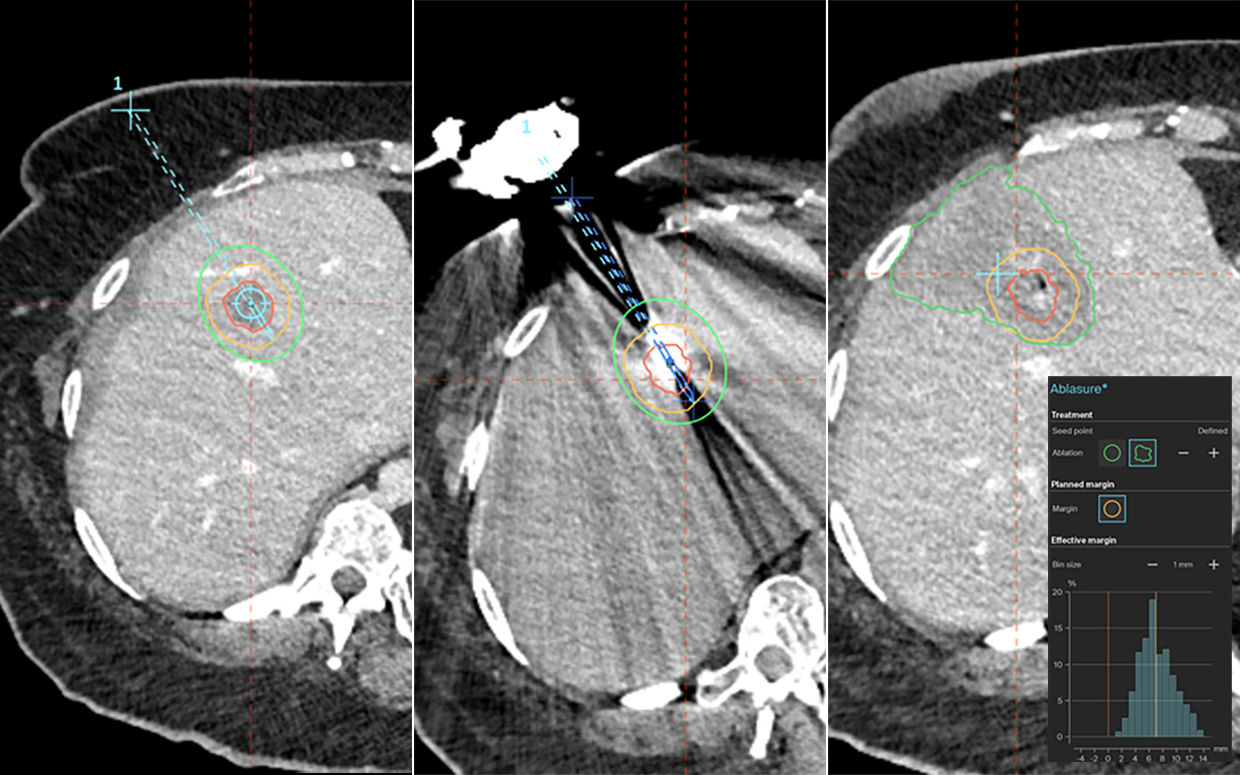 1. Trajectory plan | Needle verification | Automatic ablation zone segmentation + AblaSure screen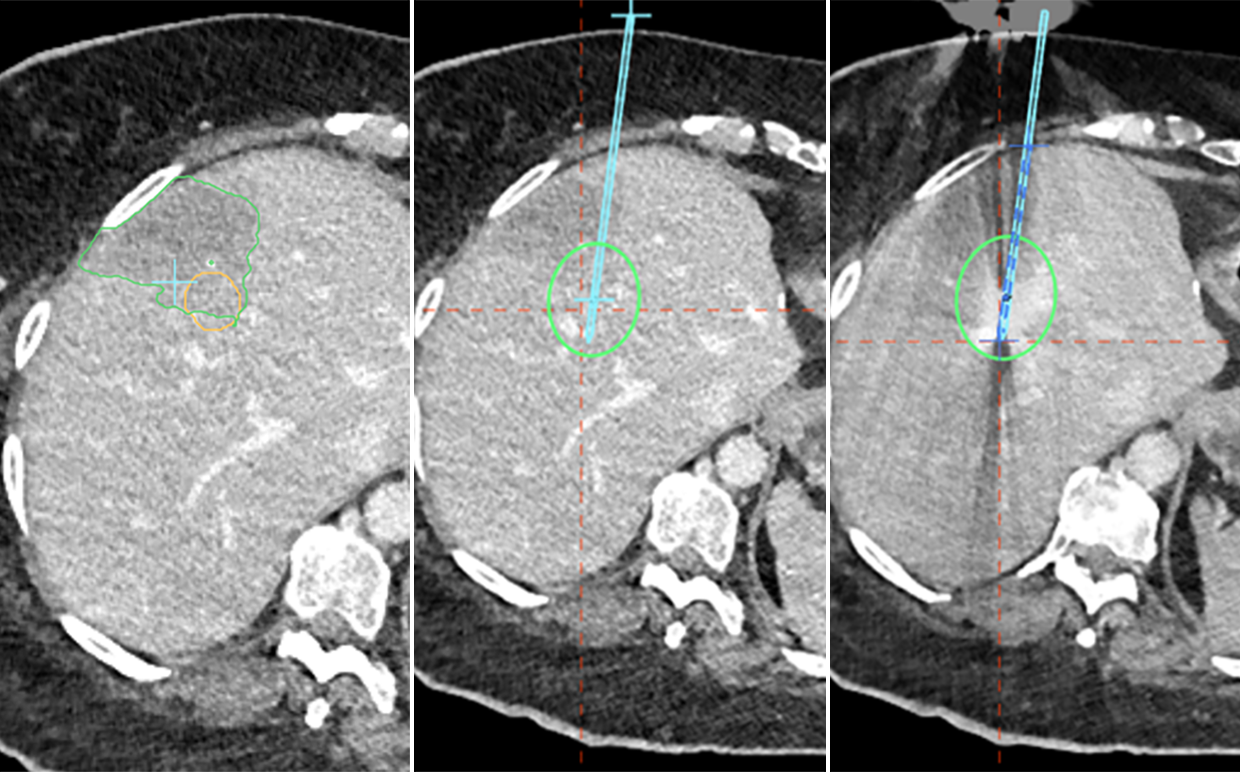 2. Under-coverage of clinical margin confirmed | Re-ablation trajectory plan | Re-ablation needle verification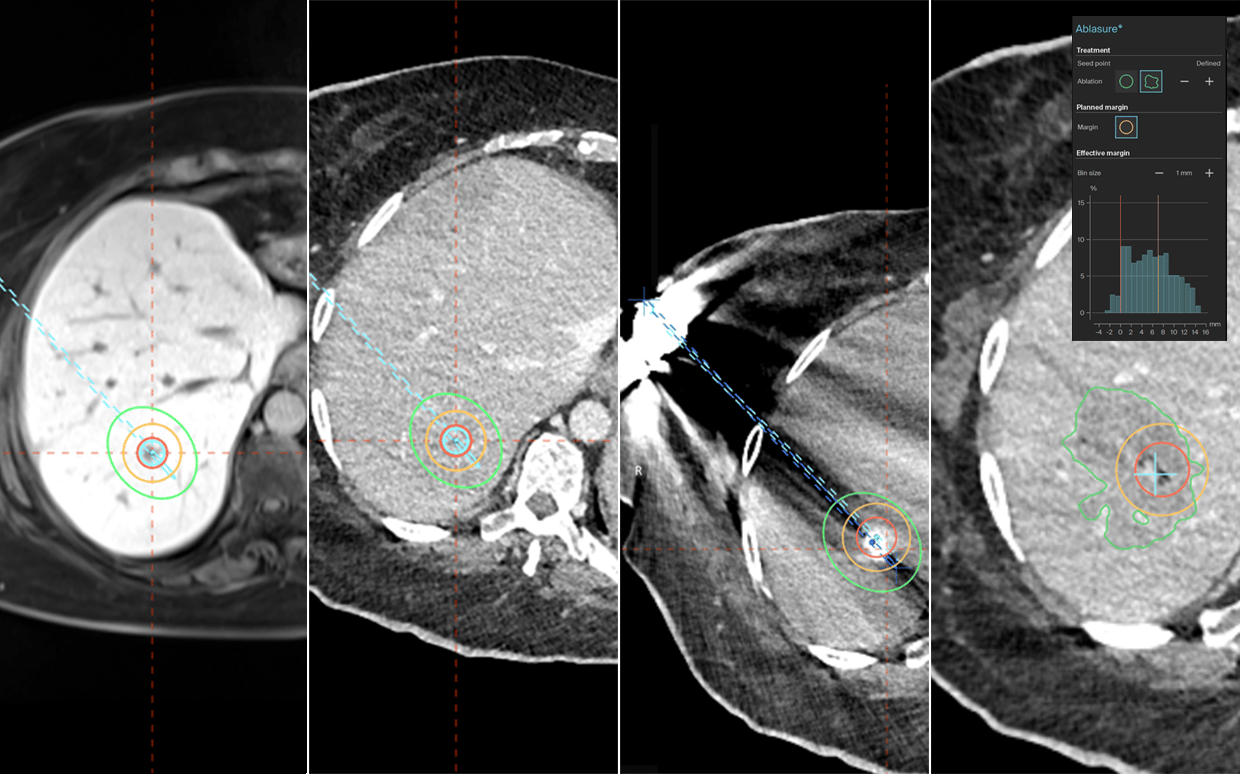 Lesion visible on MRI | CT-MRI fusion plan | Needle verification | Automatic ablation zone segmentation + AblaSure screen
---
Name: Dr Shaheen Noorani
---
Institution: Basingstoke and North Hampshire NHS Trust (United Kingdom)
---
Patient age and sex: 53 female
---
Initial condition:
Patient presented with a metastatic colorectal cancer lesion in segment VII of the liver
Metastatic lesion was resected which resulted in sepsis and the patient required recovery time of six months
Residual lesion was still in situ and developed further metastasis
The patient then underwent chemotherapy, resulting in a good response and evident tumour reduction
Ablation of the two deeply situated metastatic lesions (segment VII and segment IV) and subsequently, liver wedge resection with removal of the remaining lesions was planned
---
Treatment:
The patient was under GA and respiratory motion control, enabled using apnea during scanning and needle insertion
MWA ablation of the segment IV lesion was planned with CAS-One IR and after navigated needle placement, the 4mm lateral needle displacement was compensated for by increasing the time of ablation to subsequently increase the ablation zone
Post ablation analysis using AblaSure confirmed a slight under-ablation of the clinical margin, and the decision was made to re-ablate
A CT-MRI fusion with CAS-One IR was performed for the invisible lesion on CT, in segment VII. The needle placement was accepted and AblaSure analysis showed complete ablation of the tumour
---
Conclusion:
Post ablation assessment allowed for concise analysis of the ablation zone, clearly confirming the need for re-ablation of the segment IV lesion
The CT-MRI fusion with CAS-One IR was essential to accurately locate the invisible segment VII lesion
Ablation of both lesions was successful, and the patient was discharged the following day
---
Learn more about the stereotactic navigation system CAS-One IR.