Ablation of "invisible" Lesion in Segment VIII
CT-guided and navigated biopsy followed by microwave ablation of a hepatocellular carcinoma. Treatment thanks to image fusion of MRI and CT imaging on CAS-One IR. Control MRI shows complete necrosis of HCC in segment VIII.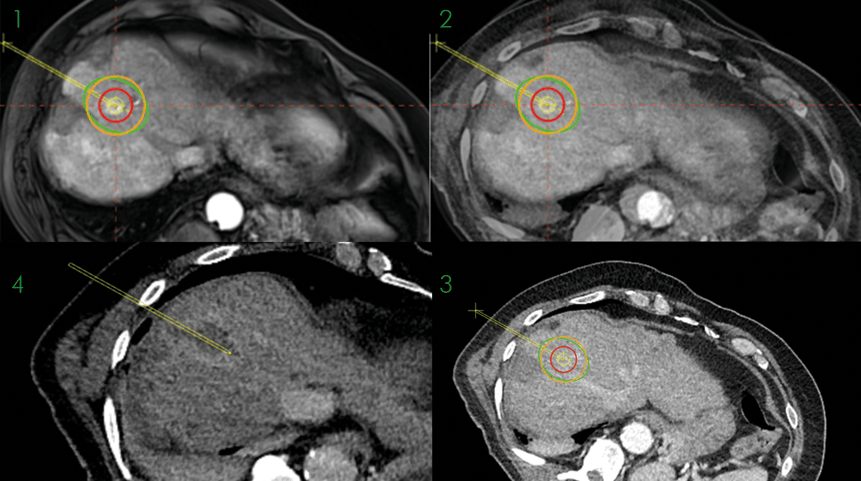 1. MRI scan showing the lesion in the center of the three circles: red (tumour), yellow (safety margin), green (ablation volume)
2. 50/50 MRI and CT scan
3. CT scan not showing the lesion
4. Control scan after the ablation showing the necrosis at the treatment area
---
Name: PD Dr. Anja Lachenmayer & Dr. Nando Mertineit
---
Institution: Insel Spital, Bern, Switzerland
---
Patient age and sex: 63 years, male
---
Initial condition:
Initial diagnosis: Multifocal hepatocellular carcinoma (HCC), stage BCLC B
Admission of the patient to hepatology. Diagnosis: cirrhotic liver and multifocal HCC. Start of systemic therapy with sorafenib and recommendation for accompanying microwave ablation for local tumor control
Aim of "downstaging" in order to qualify the patient for liver transplantation according to the Milan criteria
Microwave ablation in segments IVb and VI (In the course of treatment CAS-One IR was used for all ablations)
Additional HCC suspect lesions in segments II, III and VII
---
Treatment:
CT-guided and navigated biopsy followed by microwave ablation of an "invisible" lesion in liver segment VIII. Fusion of MRI and CT imaging to treat the lesion
---
Result:
The "invisible" lesion was completely ablated (Figure 4). Subsequently, the patient is examined for HCC suspicious lesions at regular appointments to check whether the criteria for his classification have changed or whether new ablations/treatments are necessary.
---
Learn more about the stereotactic navigation system CAS-One IR.