Stereotactic ablation of undetectable breast cancer metastasis
CT-MR fused, stereotactic, CT-guided microwave ablation of an initially invisible breast cancer metastasis in liver segment VI. Due to various patient comorbities, the microinvasive ablation procedure with CAS-One was chosen.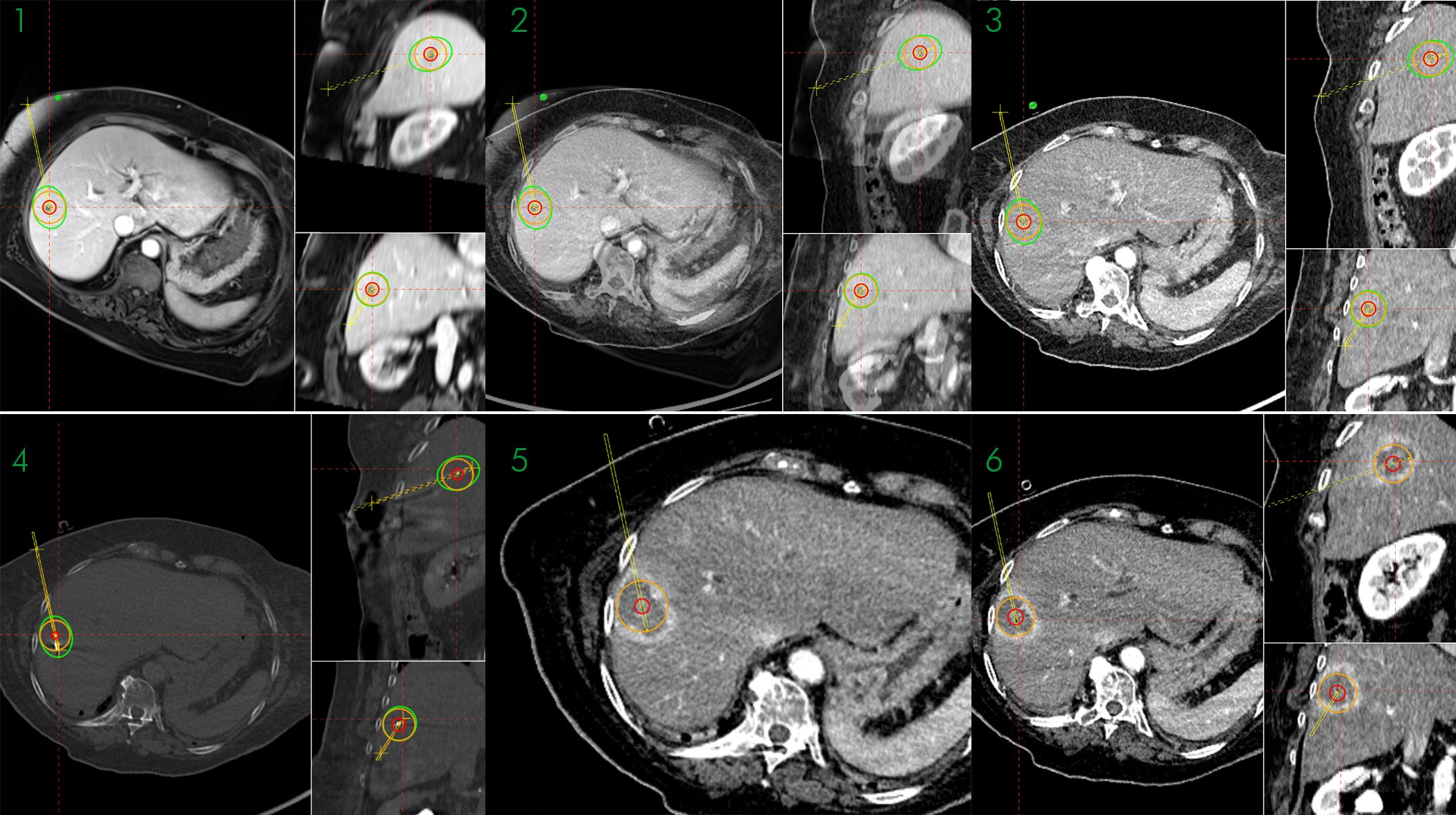 1. Pre-operative MRI showing lesion
2. 50/50 fusion of MRI and CT view
3. CT scan not showing the lesion
4. Needle control
5. Ablation control CT scan
6. Postoperative ablation control
---
Name: PD Dr. med. Anja Lachenmayer & Dr. med. Carlo Tappero
---
Institution: Inselspital Bern
---
Patient age and sex: 79 years, female
---
Initial condition:
2012: Mammary carcinoma
2018: Recurrent Mammary carcinoma
2018: Sigma carcinoma
2018: Metastatic disease from colon carcinoma
Colorectal and breast cancer with suspicious lesion on the MRI venous phase
Age and various comorbitities prevented the patient from undergoing open surgery
No chemotherapy possible either

In 2018 a PET-CT scan was performed, which was positive for the liver lesion

The lesion was initially invisible on the CT scan, therefore treatment with CAS-One IR to be able to fuse imaging modalities (CT/MRI)
Video CT - MRI Fusion
Treatment:
Minimal invasive percutaneous stereotactic CT-guided biopsy and microwave ablation of a single liver metastasis in segment VI
By fusing CT and MRI imaging modalities with CAS-One the lesion could be successfully biopsied and ablated
---
Conclusion:
Patient recovered quickly after intervention
First follow-up scan confirmed complete ablation of tumor
Learn more about the stereotactic navigation system CAS-One IR.