MWA of the Kidney with CAS-One IR
A 67-year-old patient with an incidental finding of a 2.3cm tumor in the lower pole of the left kidney that was discovered during a CT pelvic-leg angiography due to known obstructive arteriopathy. The tumor was treated with Microwave Ablation by following the Quality Ablation workflow with a curative intent.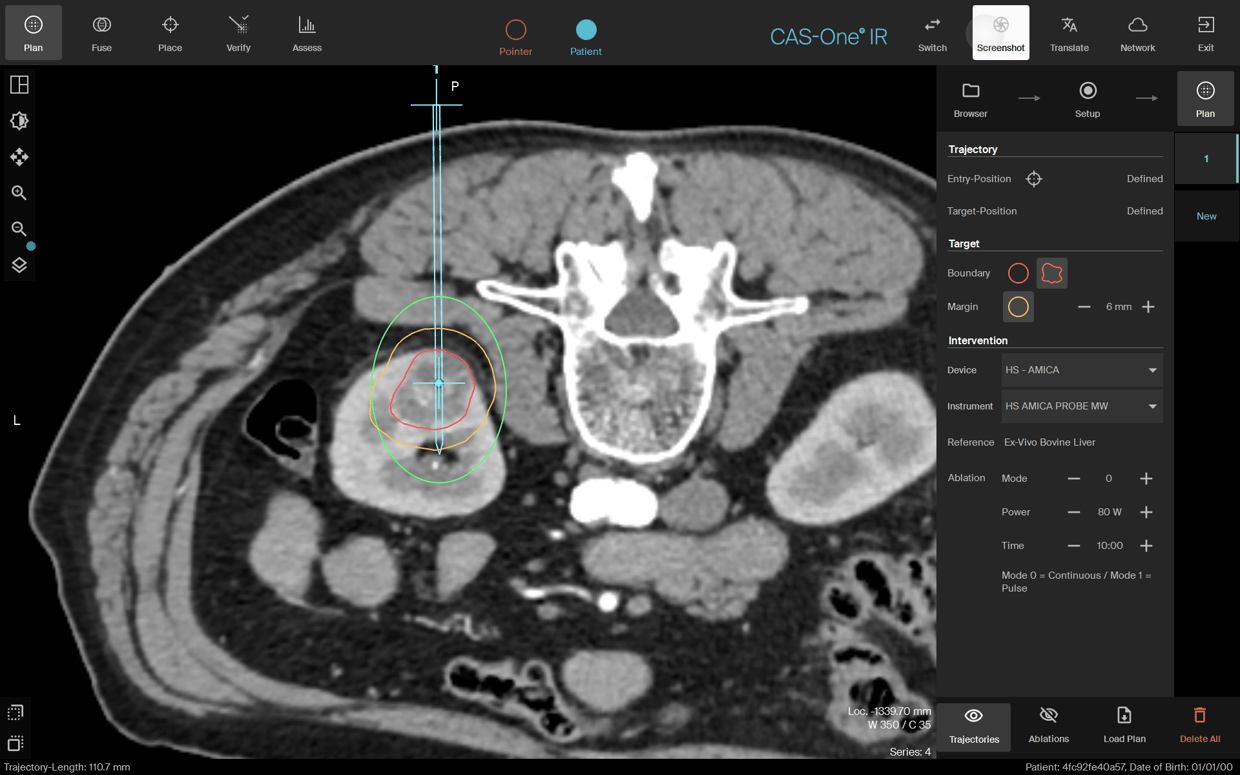 Planning of the trajectory in axial view. In red is the lesion segmented with AI, in orange the safety margin, and in green is the simulated ablation zone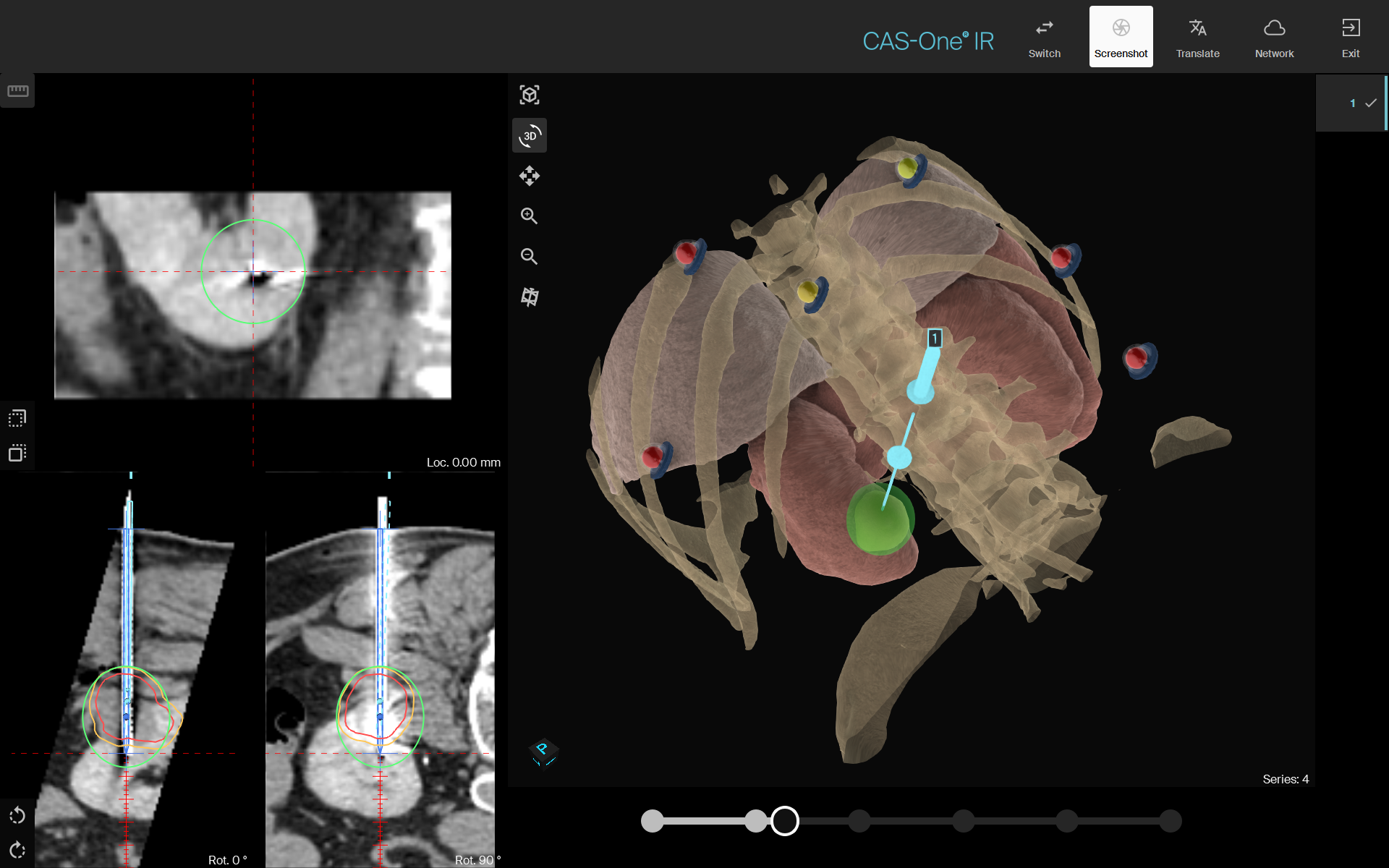 Needle placement view, where the blue line shows the initial plan, with the needle perfectly over it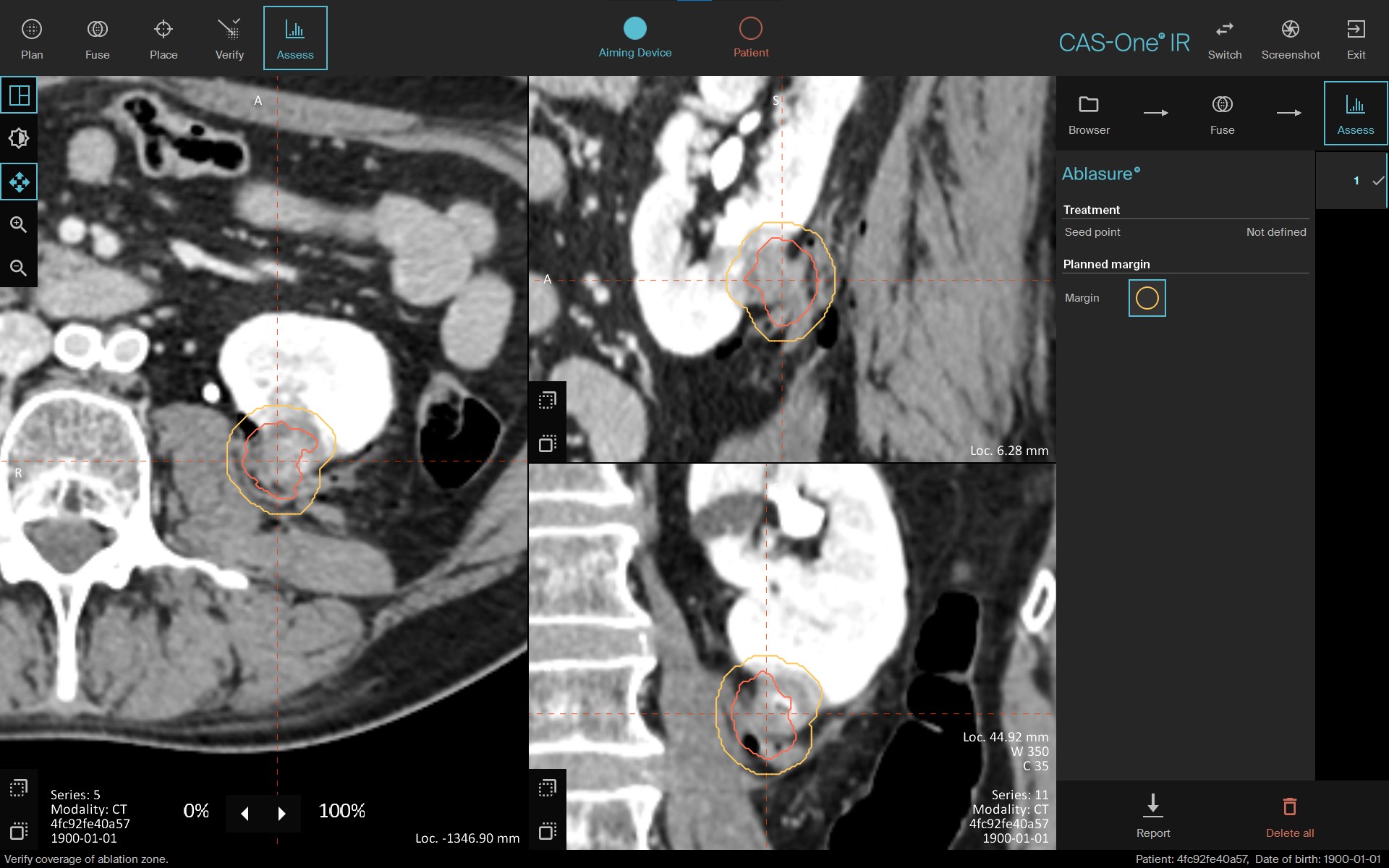 Post-Ablation scan showcasing a technical success of the treatment
Video with an overview of the procedure - plan through to assessment
---
Name: Dr. Christophe Hälg, Dr. Annkathrin Lachner, Dr. Hans Martin Gissler, Dr. Tim Ohletz
---
Institution: Kantonspital Aarau, Switzerland
---
Patient sex: Male
---
Initial condition:
Implantation of an aortobifemoral Y-prosthesis in 2008 for Leriche syndrome
Metabolic syndrome (type II diabetes mellitus, arterial hypertension, hypercholesterolemia)
Hypertensive cardiopathy
A 2.3 cm lesion in the lower pole of the left Kidney was observed during a routing CT-Angiography
---
Treatment:
The MDT decided for MWA with CAS-One IR for curative intent
MWA was the chosen method of treatment, as the lesion is exophytic and would not harm any surrounding structures, nor the parenchyma.
MWA is faster than Cryo, creates bigger ablation zones with one needle and has less heat-sink effect
CAS-One IR was used to achieve optimal placement of the ablation probe and for documentation of adequate safety distance
A single needle was planned in prone position, to prevent advancement through the Colon
The needle was inserted successfully, with very minimal displacement
---
Result:
Complete ablation of the tumour and clinical margin was observed
The patient experienced no complications during the procedure
This trajectory was safely planned and placed using CAS-One IR navigation capabilities, avoiding needle advancement through the Colon, no re-positioning and therefore resulting in less CT-Scans during the procedure
Follow-up imaging is planned 6-months post procedure
Learn more about the stereotactic navigation system CAS-One IR.