Five overlapping ablation zones of a CRLM recurrence
A 82-year old patient with past history of colon cancer had developed a metachronous CRLM that had been treated with MWA using US guidance in 2021. In 2023 the patient presented with a large crescent-shaped local recurrence (55mm) in segment VIII. Due to the possibility of planning and executing large overlapping ablation zones, a CAS-One IR MWA was chosen over a hemi-hepatectomy and radiation therapy, with curative intent. A total of six ablation zones (the 6th on a separate tumor) were planned and executed using the Medtronic Emprint system. Segmentation of the vasculature and surrounding organs helped plan trajectories and ablation zones to minimize risk. The 6-week post-intervention MRI highlights the success of this treatment.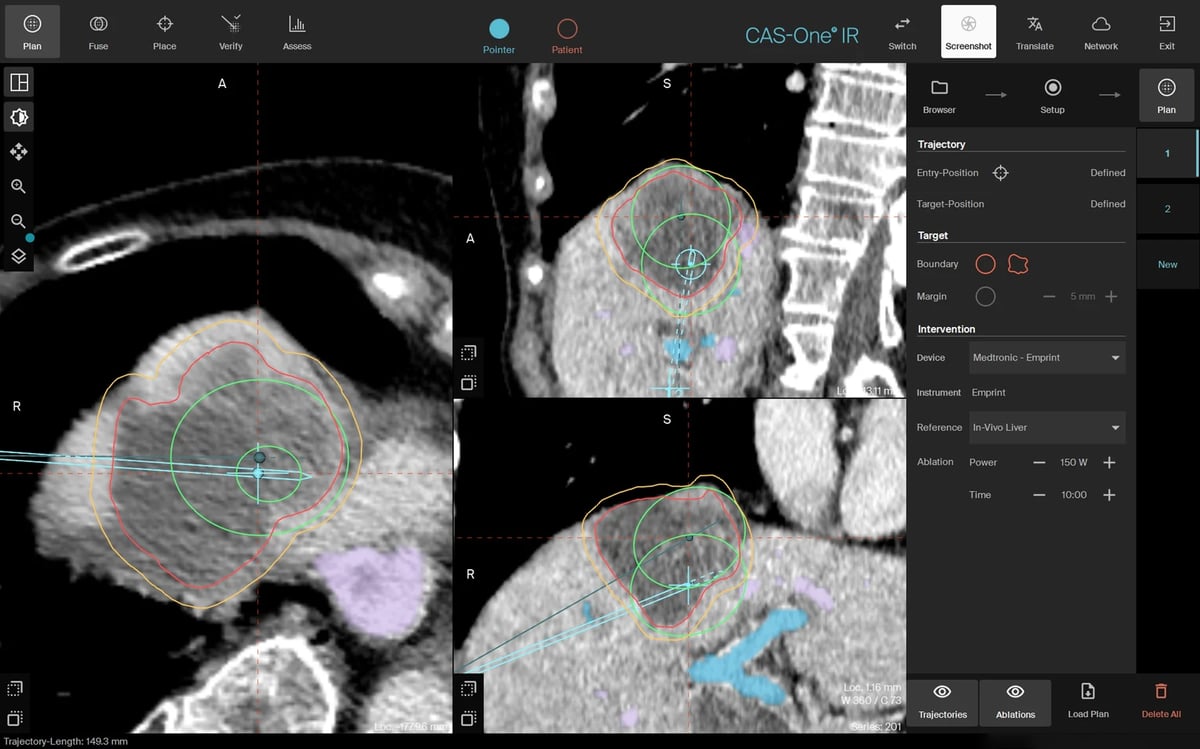 Planning scan with vasculature segmented (red: segmentation of the tumorous region, orange: 5 mm safety margin, green: overlapping ablation zones)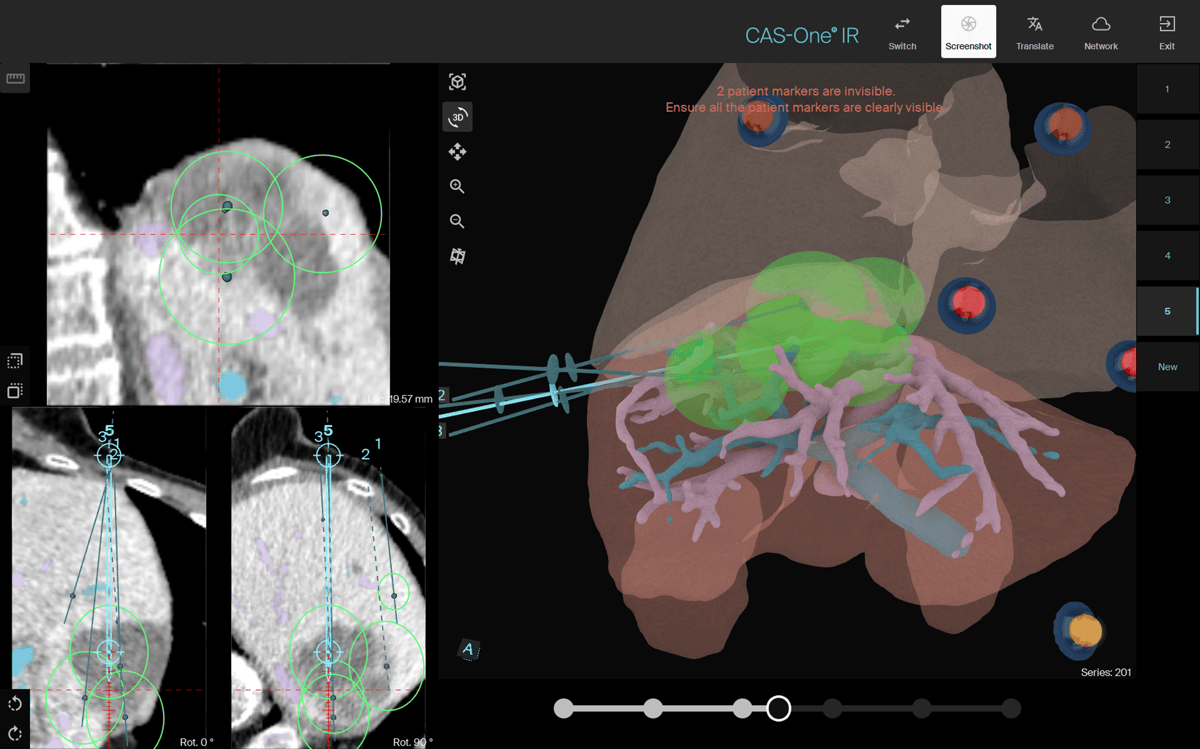 Planning scan with 3D reconstruction of estimated ablation zones and organ segmentation (green: overlapping ablation zones)

6-week post-procedure MRI in axial and coronal view showcasing no local recurrence
---
Name: Dr. Arash Najafi
---
Institution: Kantonspital Winterthur, Switzerland
---
Patient sex: Female
---
Initial condition:
82-year old patient with post-operative colon cancer with a metastasis discovered in 2021
A CRLM appeared and was ablated at the time with ultrasound guidance
A crescent-shaped recurrence was discovered in March 2023 around the edges of the previous ablation zone

Original metastasis was 55mm, recurrence was 28mm
---
Treatment:
MWA was chosen over a hemi-hepatectomy and radiotherapy, with curative intent, as the patient did not have further tumor progression
Five overlapping ablation zones using Medtronic Emprint were planned and simulated with the advantage of vascular structure segmentation in the new CAS-One IR software
A sixth ablation zone was planned for another CRLM in segment VIII
Anesthesia time was minimal due to careful planning of the six ablation zones
---
Result:
Complete ablation, including clinical margins were observed after treatment
No complication observed due to the ablation
6-week post intervention MRI showed clinical margins and no local recurrence for this large ablative area
The patient will remain under routine control


CAS-One IR 4.1 enabled this complex treatment with its ability to systematically plan the treatment with accurate needle placement
Learn more about the stereotactic navigation system CAS-One IR.