Metastatic SCLC lesion in the liver dome, treated safely with Cryoablation
This 69-year-old female patient presented with a metastatic SCLC lesion in Segment VII of the Liver. Cryoablation was the chosen method of treatment for this lesion due to its tissue-sparing nature and the need to persevere diaphragmatic tissue. CAS-One IR assisted in the safe planning of this steep inferior-to-superior trajectory, resulting in accurate and precise needle placement with a 1.5 mm lateral error. The patient experienced no complications during the procedure.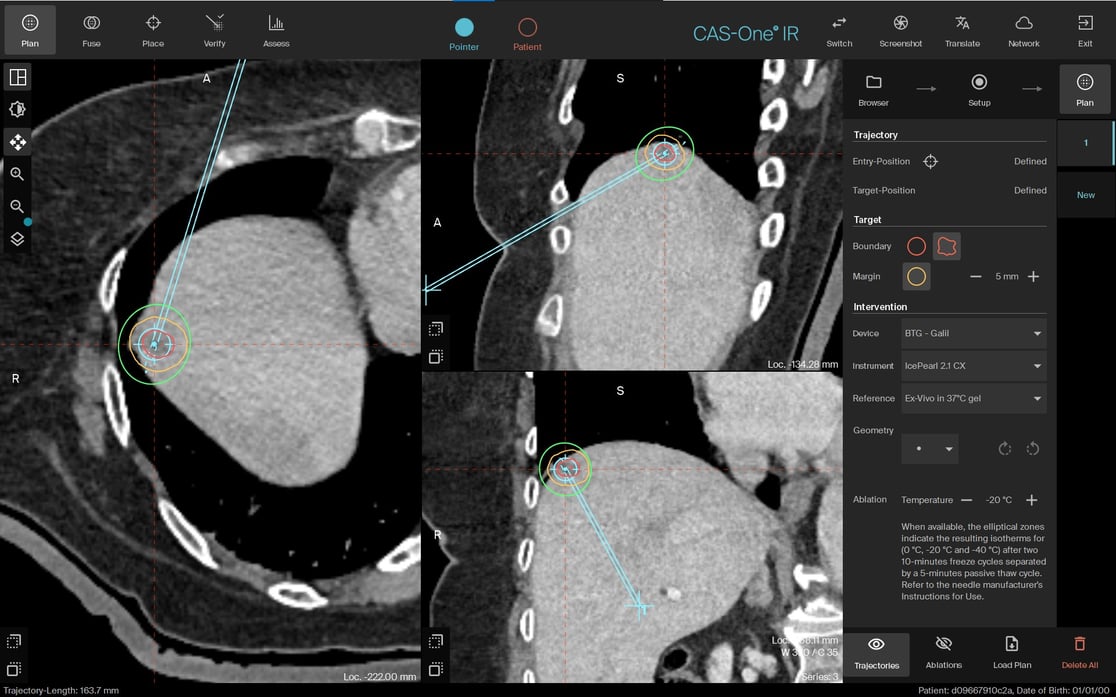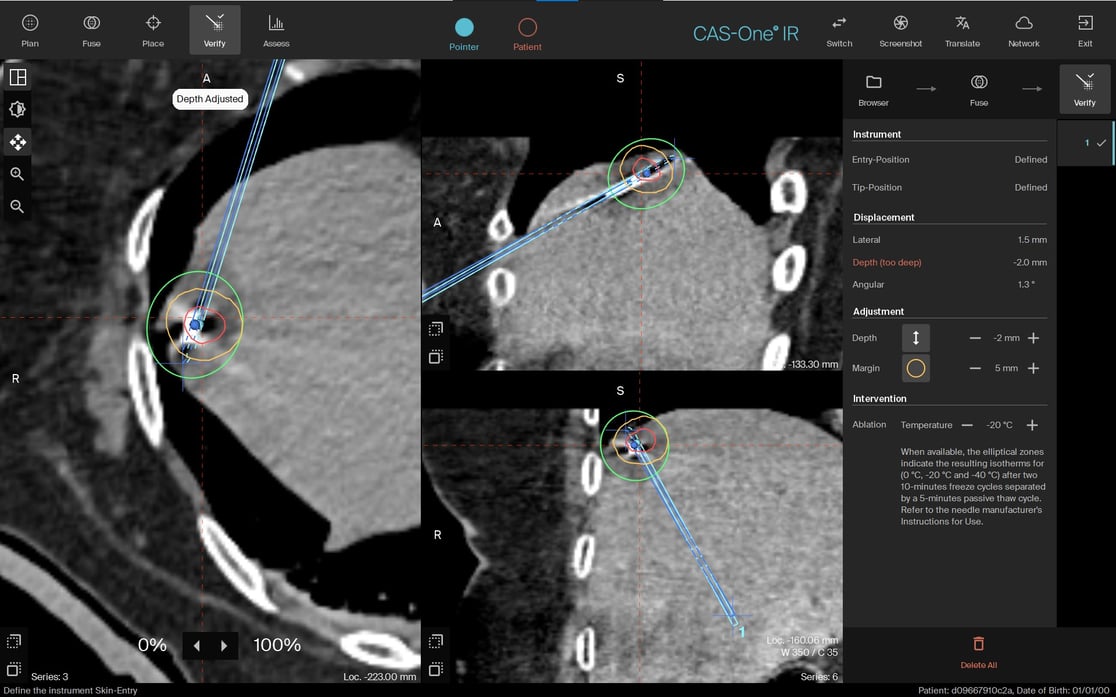 Needle verification image in MPR showing actual ablation zone in respect to needle position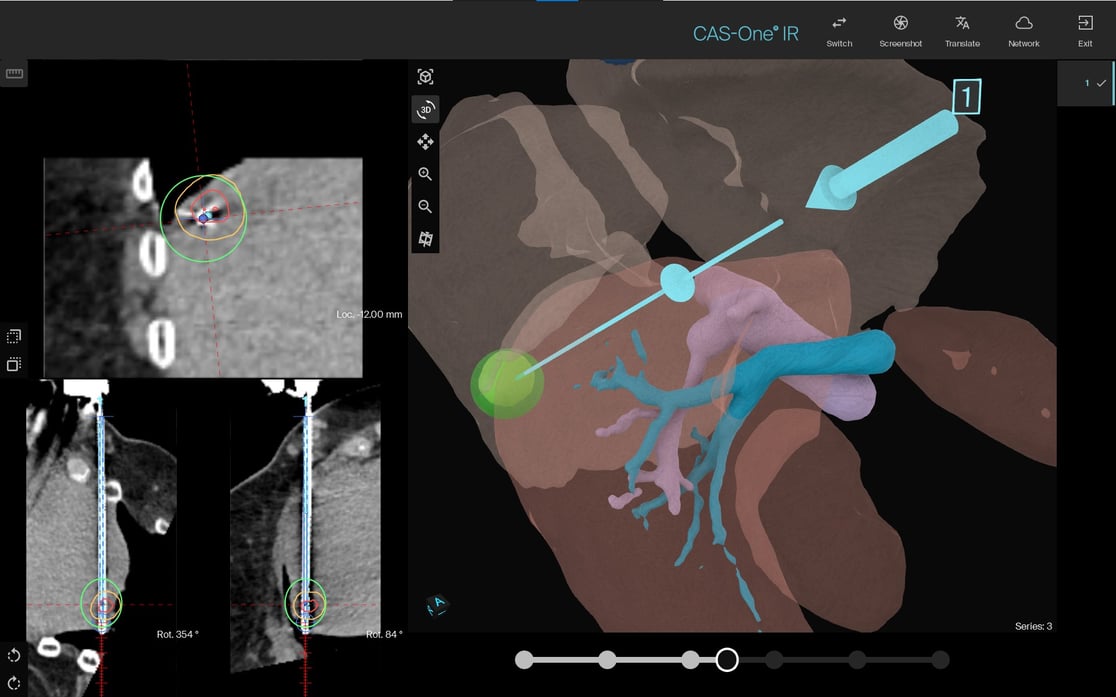 Needle verification shown in needle plan and 3D view (rendered in version 4.1)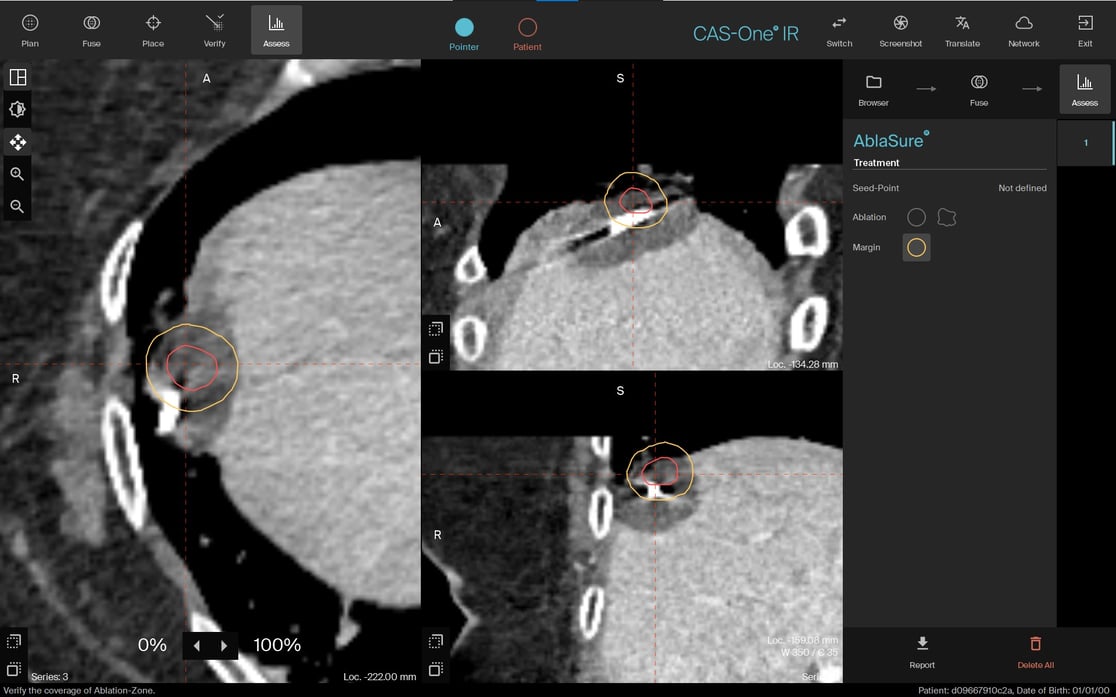 Ablation image showing ablation zone at maximum size, prior to thawing


Planning scan showing tumor vs. post-ablation scan showing ablation zone

One month follow-up CE-CT showed a complete ablation of the lesion
---
Name: Dr. Lisa Klompenhouwer
---
Institution: The Netherlands Cancer Institute (NKI)
---
Patient sex and age: Female, 69 years old
---
Initial condition:
The patient was initially diagnosed with T1bN2M0, stage 3A, SLCC in the right lower lobe of the lung
The patient underwent Chemotherapy and Radiotherapy for the treatment of the lung lesion, where she developed several pulmonary embolisms
The patient developed liver metastasis which disappeared after immunotherapy Immunotherapy
Over the years the patient developed histology-proven oligoprogression of prior liver metastasis which was treated with local therapy (thermal ablation and radiotherapy) by the decision of the MDT
During follow-up, CT and MRI showed again a new abnormality in the liver, suspected of oligoprogression
Cryoablation was planned for this subcapsular metastasis in segment VII of the liver
---
Treatment:
Cryoablation was the chosen method of treatment in order to preserve the diaphragm Hydrodissection was not possible due to multiple prior local treatments
A single needle was planned with an inferior to the superior oblique trajectory, to prevent advancement through the lung
The needle was inserted successfully, with very minimal displacement
The post-ablation CT was taken before the end of the freezing cycle to verify the ablation zone at its largest size, before thawing
Complete ablation of the tumour and clinical margin was observed
The patient experienced no complications during the procedure
---
Result:
This difficult trajectory was safely planned and placed using CAS-One IR navigation capabilities, avoiding needle advancement through the lung
One month follow-up showed a complete ablation. Three month post-procedural follow-up showed no sign of recurrence, however the patient did develop a new lesion in Liver Segment V
The patient has a history of reactive pleural oedema possibly due to Vena Cava superior syndrome (as seen on post-op images)
Learn more about the stereotactic navigation system CAS-One IR.