Biopsy plus MWA for a subphrenic, hypervascular neuroendrocrine liver metastasis
A 61 year old patient, with multiple endocrine neoplasia type 1 and history of left pancreatectomy for a neuroendocrinal tumor (insulinoma) presented a new subphrenic 8mm hypervascular lesion at the junction of the liver segments IV and VIII . Percutaneous microwave ablation (MWA) with concomitant core biopsy was decided at the multidisciplinary meeting. Technical success was achieved using CAS-One® IR with no complications, and especially no significant damage to the diaphragm.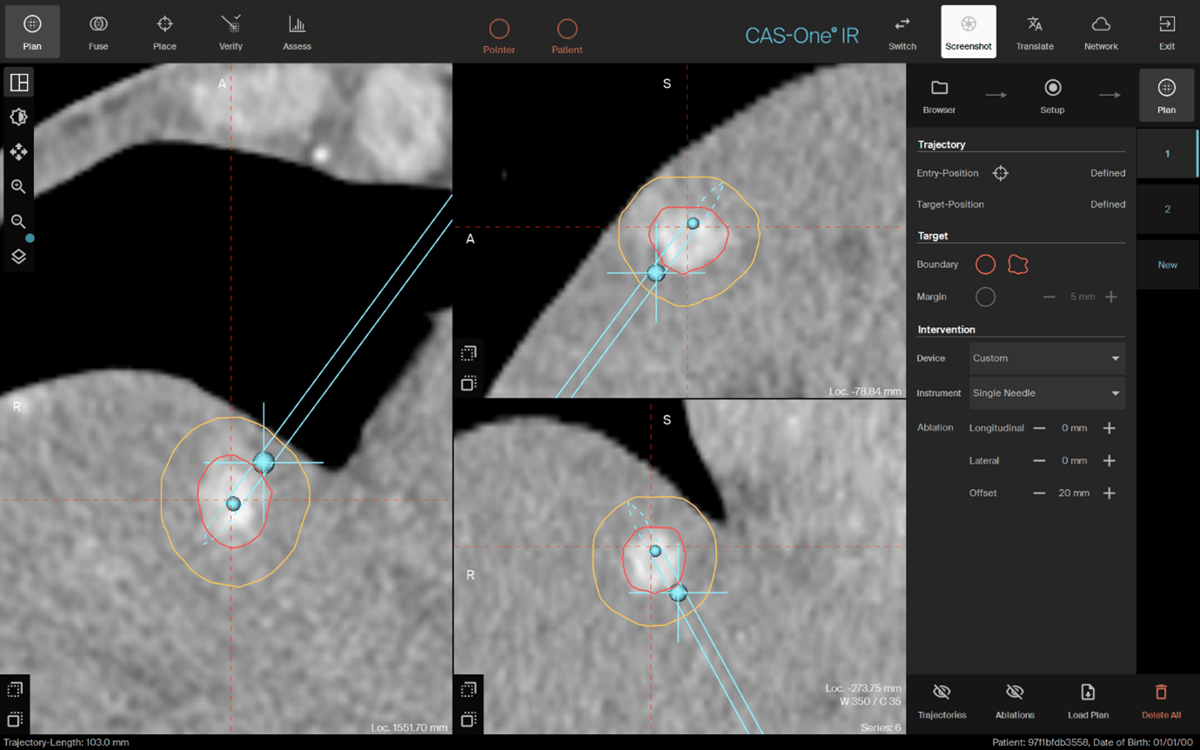 Planning of the trajectory of the coaxial in MPR view with the new custom mode. In red is the lesion segmented with AI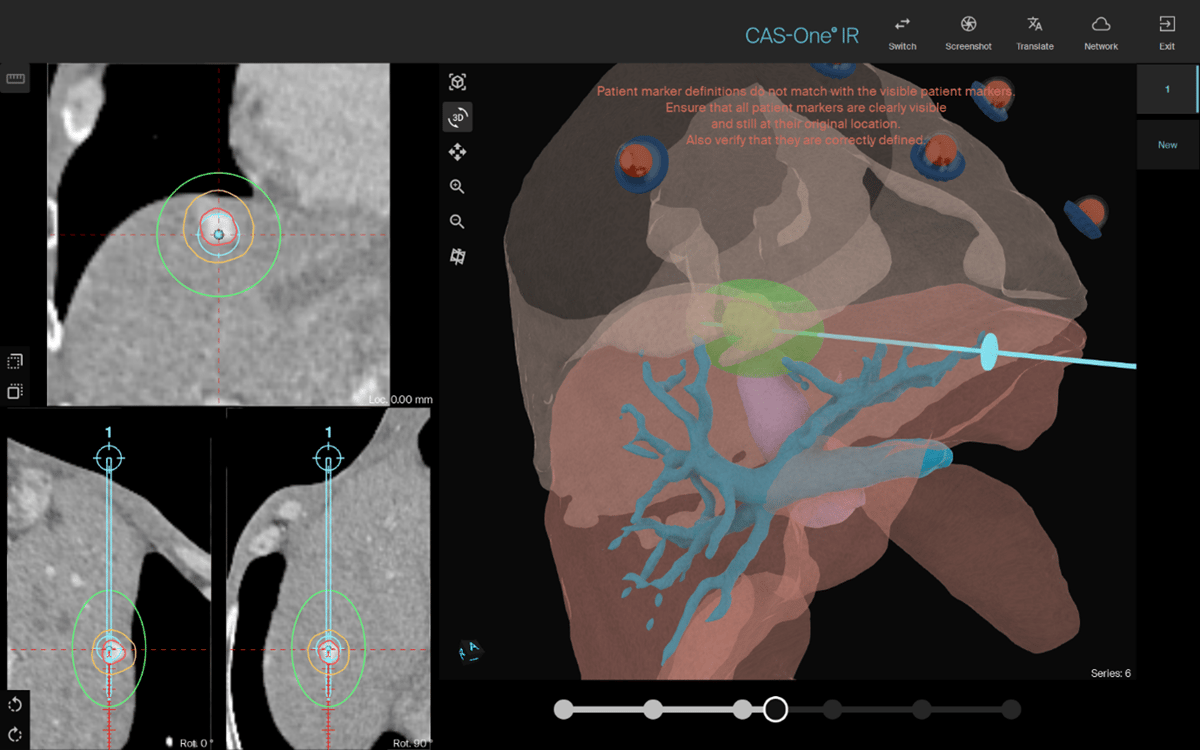 The MWA planning scan with a 5mm margin (in yellow) and the estimated ablation volume in green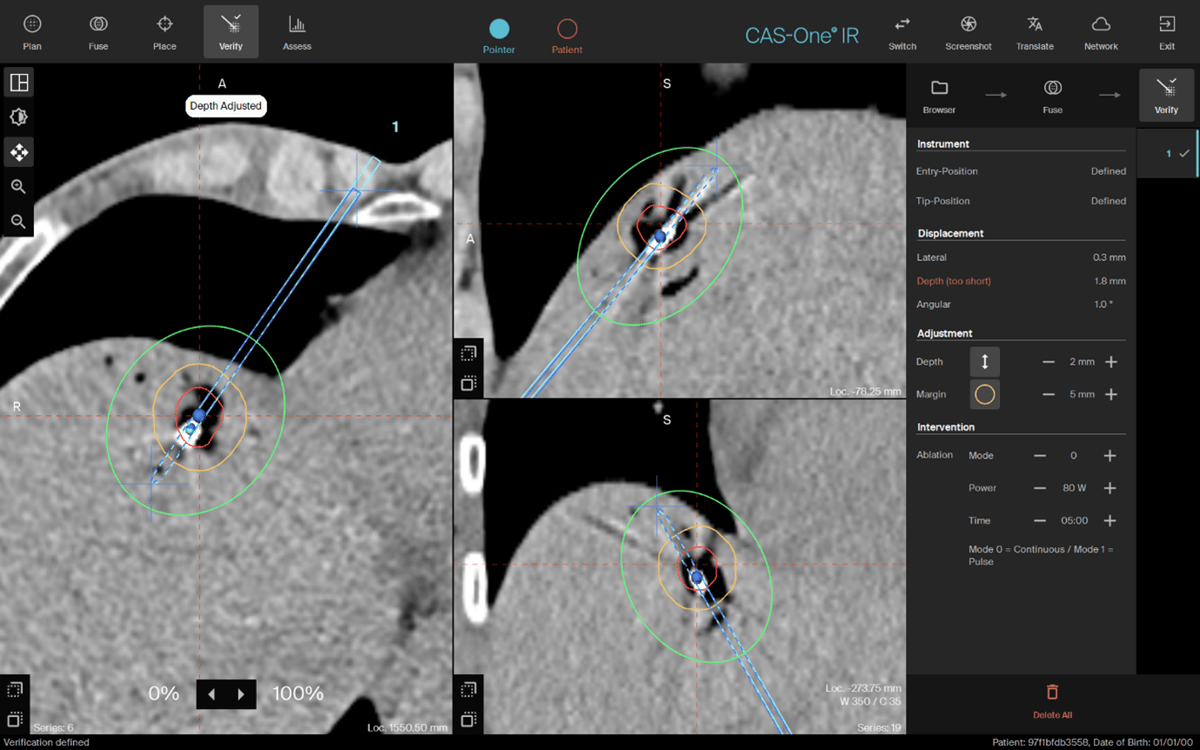 The needle verification scan showing 0.2mm lateral error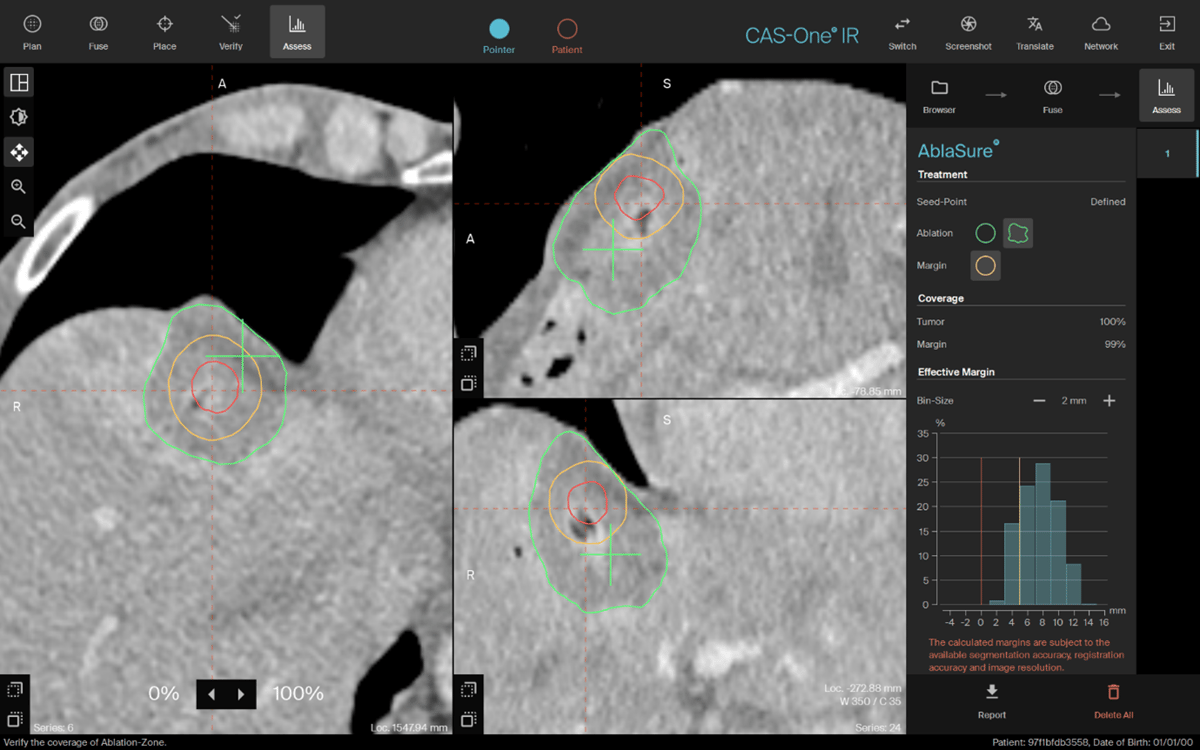 The post ablation scan with AI-driven AblaSure showing 99% margin coverage (the 1% remaining being in the lung)
---
Name: Dr. Olivier Chevallier
---
Institution: CHU Dijon, France
---
Patient sex/age: Male, 61 years old
---
Initial condition:
Patient diagnosed with pancreatic neuroendocrine tumors (multiple endocrine neoplasia type 1 (MEN 1)): Insulinoma
Left pancreatectomy was performed in 2010
Recent MRI follow-up demonstrated a new single liver metastasis
Confirmation of uptake on the 68Ga-DOTATOC PET-CT
Percutaneous core biopsy and ablation in a single session decided at the multidisciplinary meeting. A biopsy was necessary to re-analyze the classification of the tumor.
Microwave ablation was planned for this lesion located very close to the diaphragm and the right atrium.
---
Treatment:
A 9mm subdiaphragmatic liver lesion at the junction of segments IV and VIII
Percutaneous CT-guided core biopsy (5 samples) performed using 18G automatic Tru-Cut biopsy needle through a 17G coaxial needle. Coaxial needle was first placed using the new custom mode defining an offset of 2 cm. Biopsy was followed by embolization of the puncture tract using gelfoam.
Percutaneous MWA (ECO) of the hepatic target lesion at 80W for 5 min.
Pre-ablation hydrodissection to separate the diaphragm and the liver was not performed. However, the MWA antenna was placed at the lower part of the lesion away from the diaphragm, and CT acquisitions were performed during ablation to look for extracapsular infiltration or thickening of the diaphragm.
Positioning of the MWA needle with a 0.2 lateral displacement.


---
Result:
Biopsy/Pathology clinical and technical success: The material obtained was sufficient to perform a thorough anatomopathological analysis: Well-differentiated neuroendocrine tumor, grade 2.
Technical success of MWA of the tumor with adequate margins
No complications occurred. A thickening of the diaphragm was observed on the control-CT after ablation, but without any symptoms.
The antenna was placed in a single shot, limiting repositioning and the number of CT acquisitions.
No analgesia was required on awakening from anesthesia. Patient was asymptomatic on discharge at 24 hrs.
Follow-up liver MRI planned at 8 weeks. Chromogranin level assessment.
Learn more about the stereotactic navigation system CAS-One IR.