The first cases of the new AI-driven CAS-One IR are in the books!
CAS-One IR version 4.1 has officially launched and first cases have been completed in 3 hospitals already. While the team will diligently install this version at more and more centers throughout the world, we wanted to highlight the first group of cases so far. For full information on the new features and value behind them, please visit our official page here.
Danderyds Hospital in Stockholm (SE) has been a firm believer in Quality Ablation with CAS-One IR since its beginning. Dr. Marie Beermann herself has done over 500 cases with CAS-One IR and that number will soon surpass 1000. This was the perfect place to launch the new AI-driven version.

After treating 3 patients in one day (quite normal there) she remarked on the interactive planning mode: "Using the arm and setting up entry points and trajectories was never a problem in the past, but with this new mode, it does make it even faster"
On the post ablation assessment she highlighted that: "I had used the first version of AblaSure, but there were some limitations. The new algorithm that is build with AI, gave us a better segmentation and visualization of the ablated tissue, so we could compare it to our planned margin and decide if we needed an immediate reablation, or if we were confident in the treatment"
Margin assessment is more and more a topic of scientific discussion, we are happy to have this significant upgrade now available.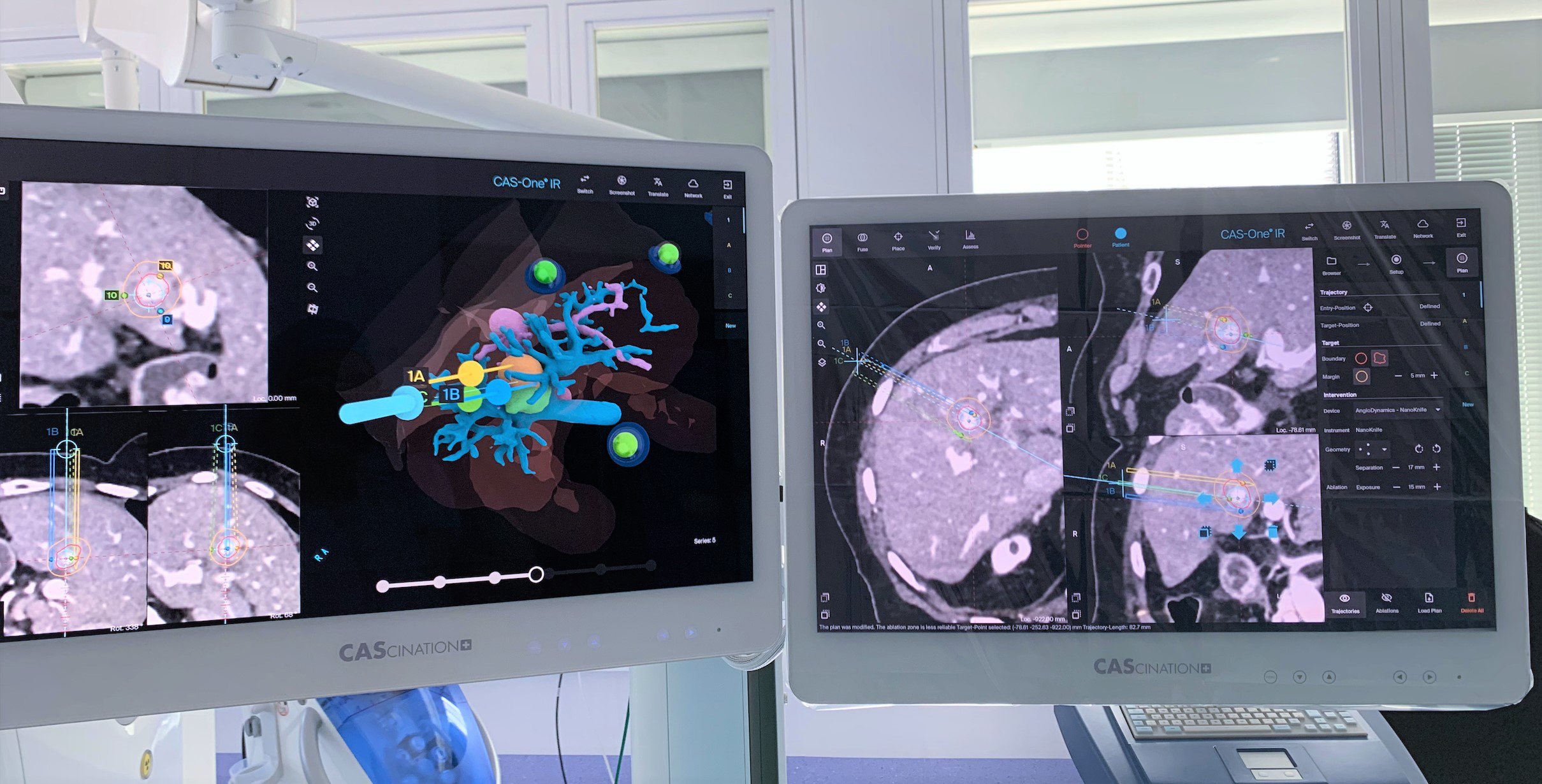 3D reconstruction of the vasculature in the liver during this IRE case.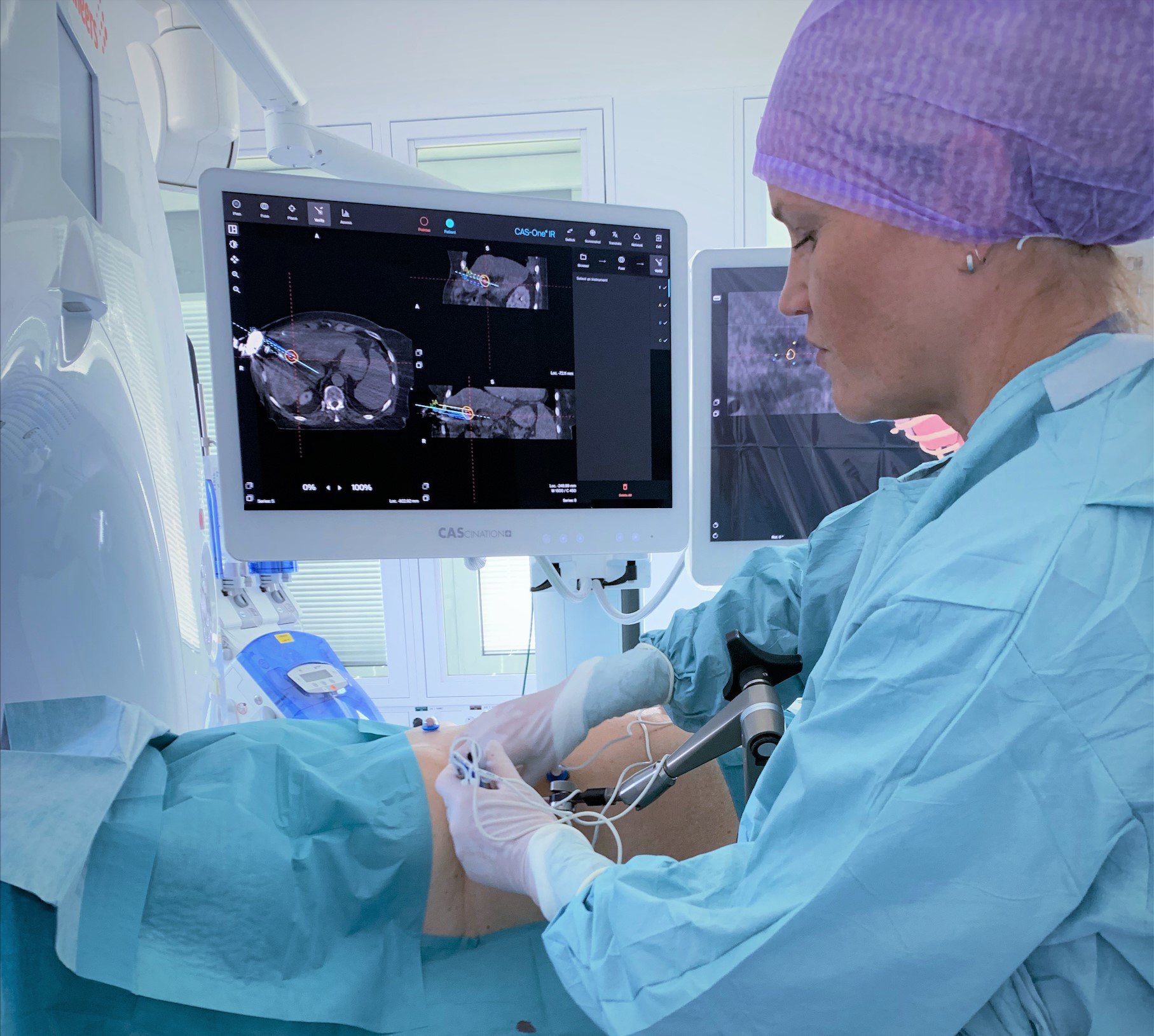 The needle verification step
Their first two patients with the new AI driven software went exactly as planned. The 3D reconstruction of the blood vessels in the liver helped them minimize risk to the patient, especially since they inserted 3 needles in this IRE case.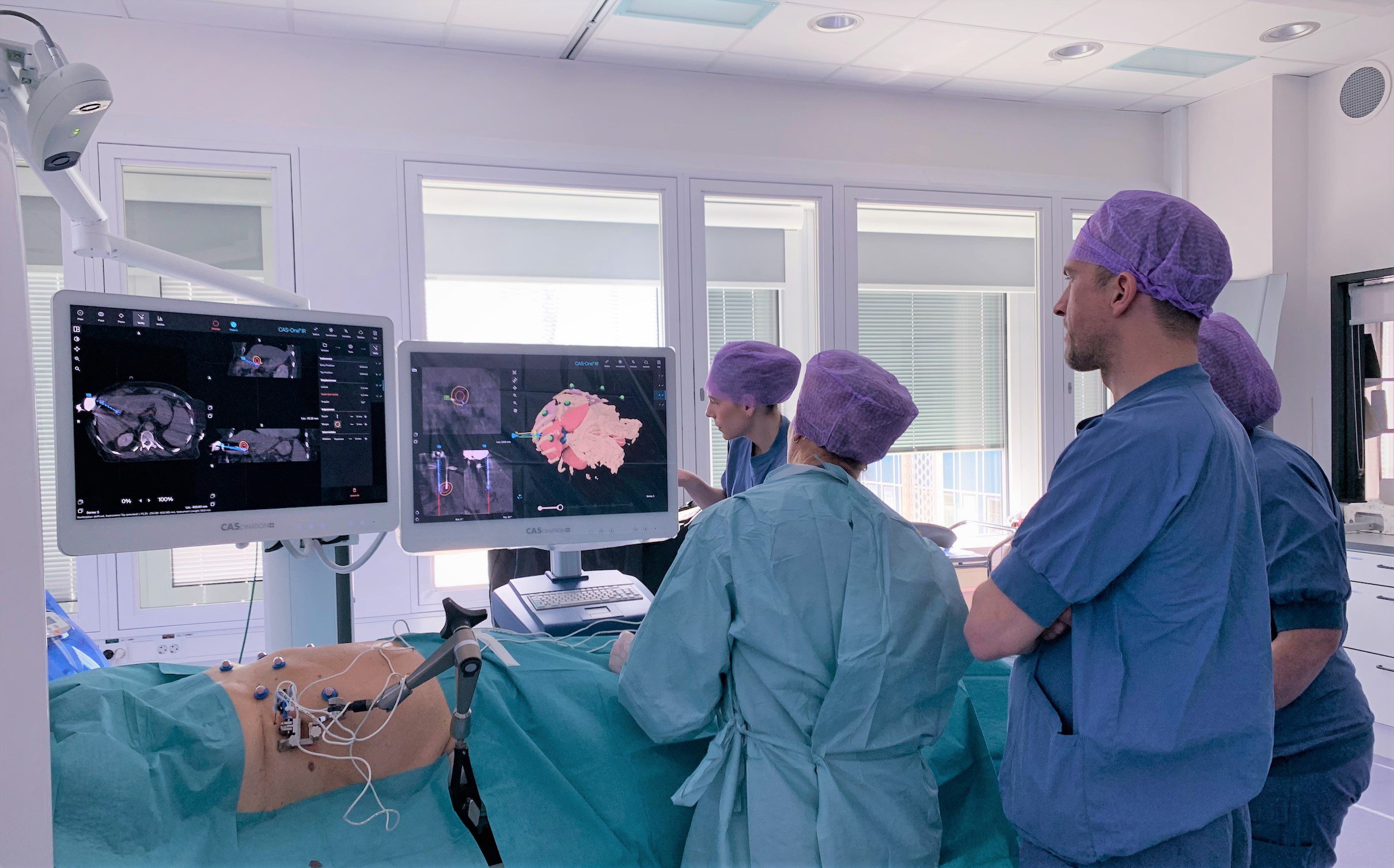 Another view during the IRE case
Also completing their first cases were the team at Sahlgrenska University Hospital in Gothenburg (SE) led by Dr. Christian Weiergang and Dr. Farida Hashimi and and at the same time on the same day but 1000km away, Prof. Thiery Chapelle and Dr. Bart op de Beeck in Antwerp (BE)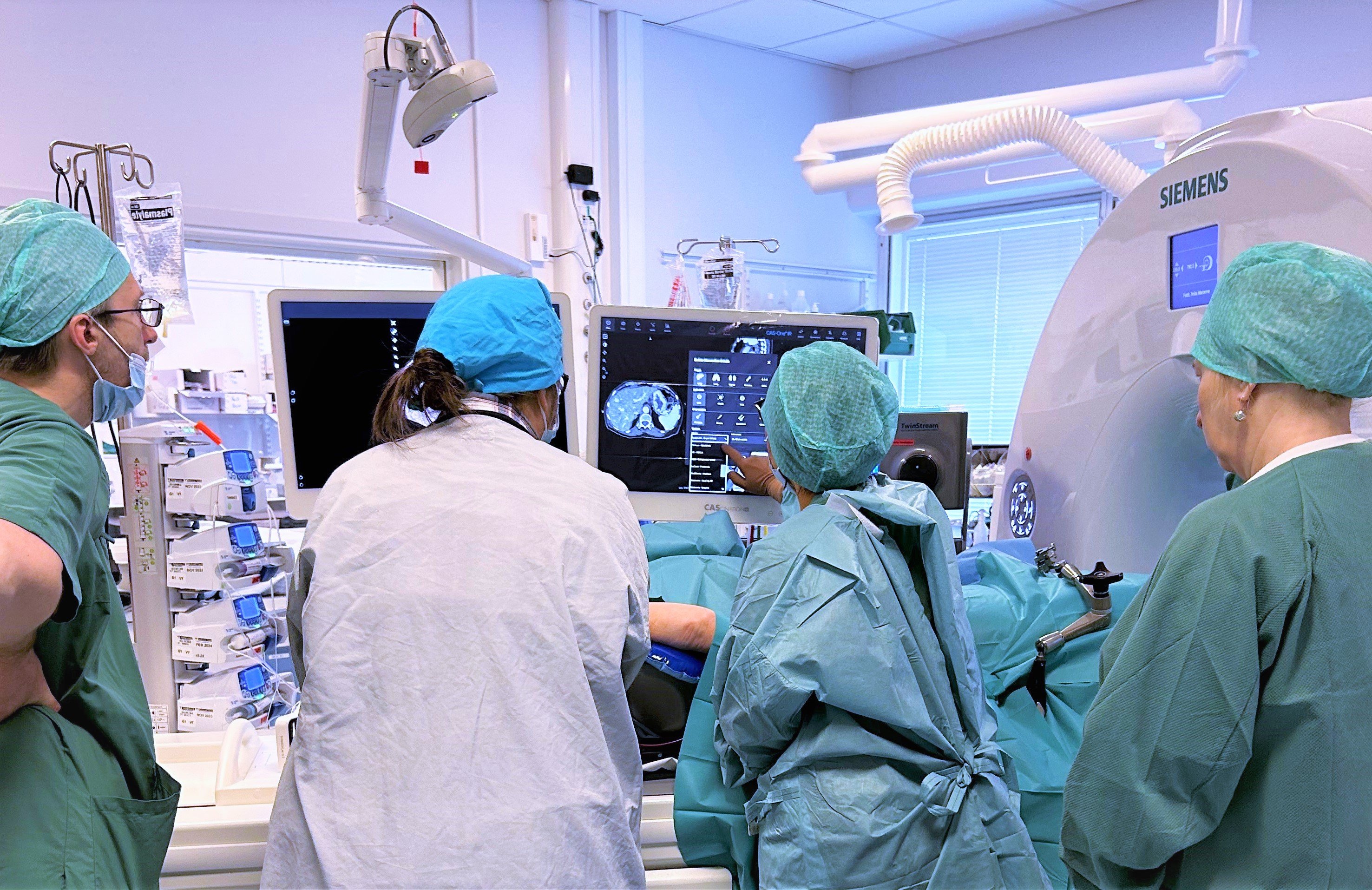 The team at Sahlgrenska University Hospital in Gothenburg (SE)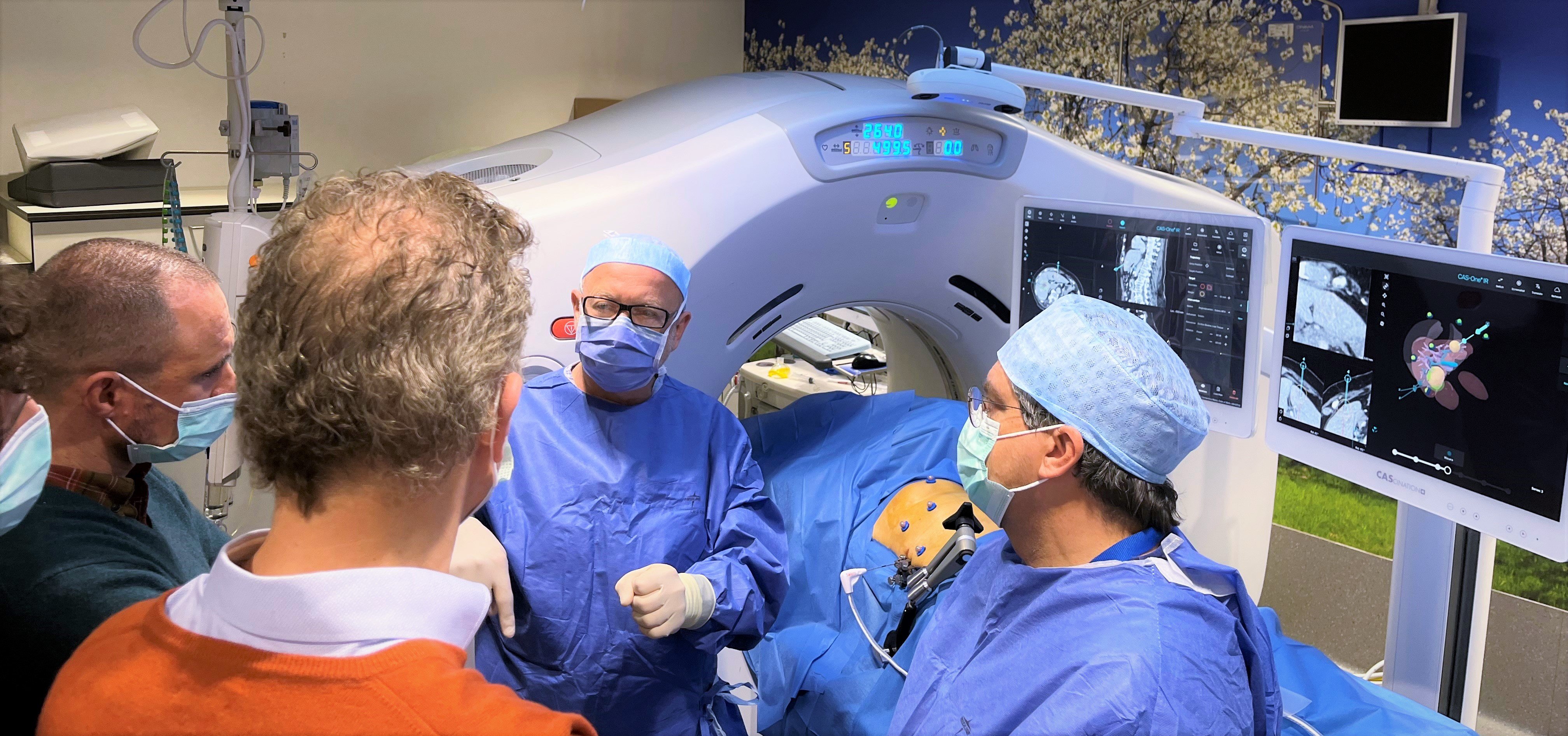 The team in Antwerp plans 4 trajectories in their first 4.1 case - a nice 3D reconstruction of the vascular structures in the liver helped them plan a safe and effective case
We are happy and thankful to have such excited physicians who help push the story of Quality Ablation further!