IROS 2022 Recap - Interventionell Radiologisches Olbert Symposium
The CASCINATION team was present at Interventionell Radiologisches Olbert Symposium in Salzburg.
We had a great 3 days at IROS engaging with physicians giving product demos and showing the value of Quality Ablation.
Prof. Philippe L. med. Pereira presented an update on the German guidelines for the diagnosis and treatment of hepatocellular carcinoma.
Based on the consolidated data, microwave ablation is now considered the standard method for local ablation procedures along with radiofrequency ablation. For stage A HCC up to 3 cm, percutaneous ablation is recommended as an equivalent procedure to surgical resection.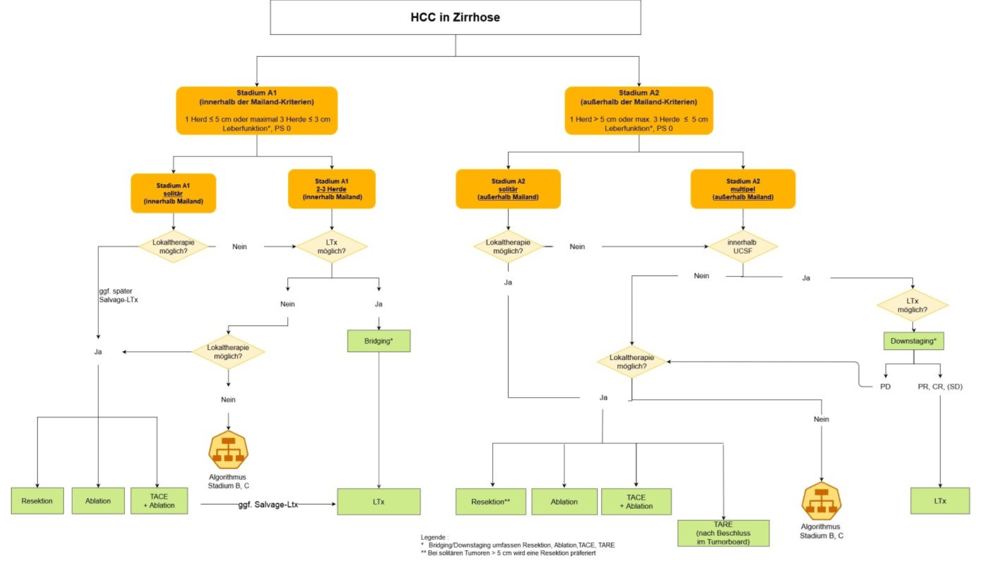 Figure 1 Treatment algorithm for HCC in relation to cirrhosis stage A (reference Leitlinienprogramm Onkologie (Deutsche Krebsgesellschaft, Deutsche Krebshilfe, AWMF) (2022). Aktualisierung der S3-Leitlinie Diagnostik und Therapie des hepatozellulären Karzinoms und der biliären Karzinome erschienen. Zeitschrift Für Gastroenterologie, 60(01), 115–115. https://doi.org/10.1055/a-1721-7019)
In addition, this is the first time that combination therapy of ablation with TACE for the treatment of larger HCC (3-5 cm) has been listed as a high-evidence recommendation in a national guideline.
Beyond this, despite the still limited data, recommendations for diagnosing and treating Intrahepatic cholangiocarcinoma (ICCA) were defined. Ablation is considered if the tumor cannot be completely resected and recurrences after surgery.
To see how CAS-One IR can enable safe and efficient ablation of ICCA, have a look at the findings from one of our power users: The Role of Conventional and Stereotactic Microwave Ablation for Intrahepatic Cholangiocarcinoma.
We were glad to meet all of you in person and we hope we will see you again at the next congress.