ECIO Stockholm Highlights for Ablation Fanatics
ECIO 2023 Is upon us! Back by popular demand are the highlights for those of us who eat, drink, and sleep percutaneous tumor ablation. Below are the "cant-miss" sessions that you will find the most interesting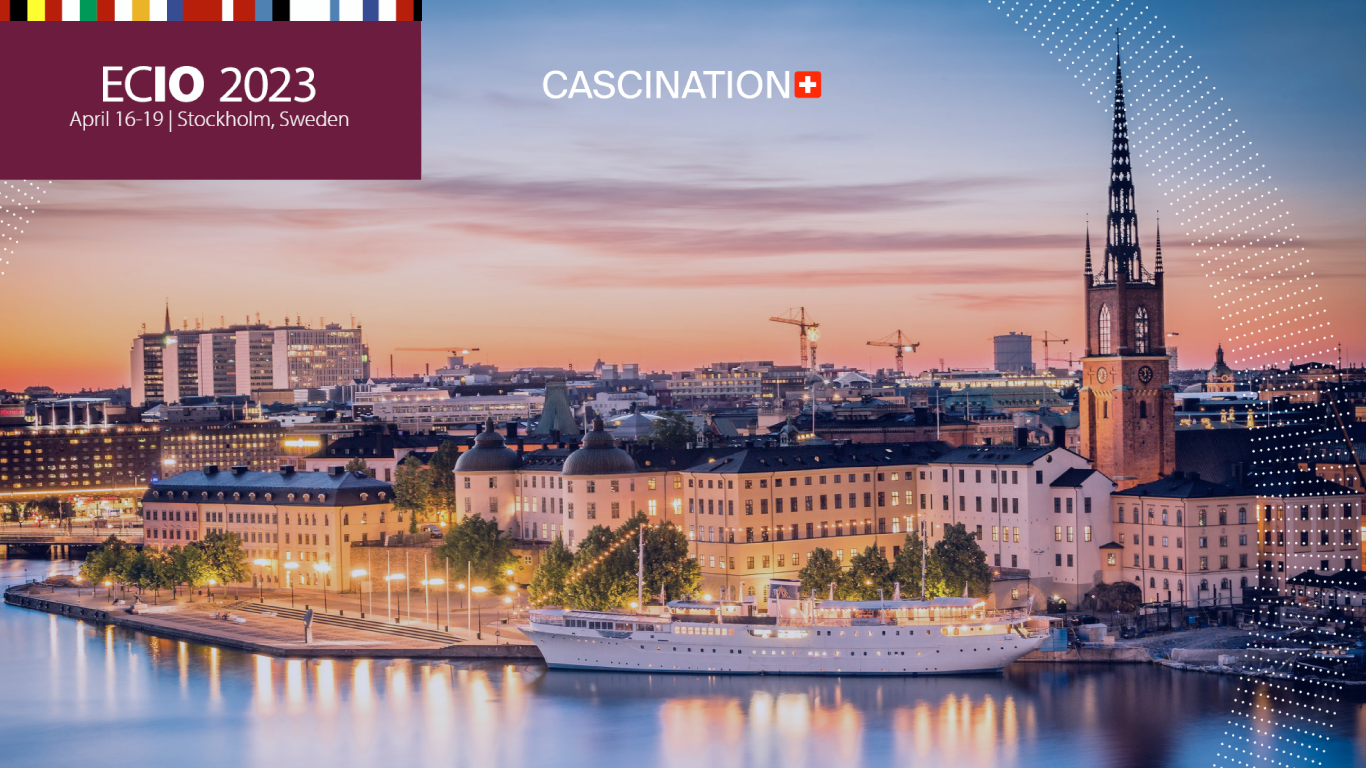 Of course, perhaps the most exciting thing (completely unbiased) at ECIO is the launch of CAS-One IR version 4.1 - driven by AI. This exciting new software release is designed to help you visualize patient anatomy, and add confidence to your treatments.

With automatic organ segmentation including critical structures, an AI-driven AblaSure quantitative margin assessment, and interactive planning mode, we have never been more confident in saying "more patients, better results".
Come by our booth, or check our our official page our official page
Now, for the scientific congress highlights - of notable mention are also 6 posters featuring CAS-One IR
Saturday April 15th
IOFC2 - Lung cancer and lung metastases
13:20-14:25 Auditorium 3 - Moderators: V. Grozman, O. Grundberg
2.1 Primary lung cancer types and overview of lung metastases - K. Dolapcsiev
2.2 Surgery: basic techniques and indications - E. Sachs
2.3 External radiotherapy and SBRT - D. Alm
2.4 Chemotherapy and immunotherapy - O. Grundberg
Sunday April 16th
CF 111 - HCC: doubts we have brought with us to 2023
8:30-10:00 Auditorium 1 - Moderators: B. Sangro, P. Pereira
111.1 LIRADS: what are the pros and cons? - C. Aube
111.2 MALD-HCC: is it a completely different disease to handle? - M. Allaire
111.3 Is there space for improving the curative intent of ablation? - R. Iezzi
111.4 Has the perspective on the treatment of intermediate stage HCC changed? - I. Bargellini
111.5 Combining loco-regional treatments and immunotherapy: has the promise been kept? - J. Ricke
CF 112 - Ablation in other organs
8:30-10:00 Auditorium 2 - Moderators: M. Meijerink, M. Beermann
112.1 Head and neck tumour ablation - U. Pua
112.2 Thyroid: malignant lesions and recurrences - G. Mauri
112.3 Breast cancer - M. Tsitskari
112.4 Pancreas: intra-operative and percutaneous approaches - P. Peddu
112.5 Adrenal malignancies - G. Carrafiello
CF 122 - MSK: established indications
10:30-12:00 Auditorium 2 - Moderators: S. Masala, M. Leu
122.1 Stereotactic radiosurgery of bone metastases - M. Leu
122.2 Vertebral augmentation for cancer patients: which technique for which patient - S. Marcia
122.3 Palliative care in metastatic spinal and MSK tumours - R. Cazzato
122.4 Desmoids and desmoids fibromatosis - J. Garnon
122.5 Avoiding complications in osteoplasty techniques - S. Yevich
122.6 Neuroanatomy and thermoprotective techniques - A. Kurup
CF 141 - Meet the PI: upcoming research
15:00-16:30 Auditorium 1 - Moderators: A. Denys, J. Chapiro
141.1 RESPECT - P. Wiggerman
141.2 SEASON HCC - L. Crocetti
141.3 ZUGSPITZE - J. Ricke
141.4 HOLMBRAVE - L. Tselikas
141.5 - Study on vanishing lesions in the liver - final title to be announced - S. Holmin
141.6 - COVER-ALL - B. Odisio
141.7 DRAGON 2 - R. Korenblik
141.8 SIO Research grant program: experience from 5 grant cycles - J. Chapiro
CF 143 - Scientific papers 1
16:00-16:30 Auditorium 2 - Moderators: A. Gangi, M. Sone, B. Wood
143.1 Thermal ablation compared to partial hepatectomy for recurrent colorectal liver metastases: an Amsterdam colorectal liver met registry (AmCORE) based study - H. Schulz

143.2 Robotic vs. freehand CT-guided radiofrequency ablation of pulmonary metastases: a comparative cohort study - E. Johnston

143.3 Percutaneous screw fixation of pathologic fractures of the sternum - E. Santos Martin
TF 152 - Tips and tricks: cased based discussion - various organs
17:00-18:30 Auditorium 2 - Moderators: I. Keussen, F. Orsi
152.1 Breast: a beginner's guide - T. Vogl
152.2 Lung: difficult locations - J. Gaubert
152.3 Liver: best practice - F. Orsi
152.4 Kidney: pelviureteric junction proximity - D. Breen
152.5 Adrenal: the best way to do it safely - J. Garnon
152.6 Pelvic ablations: when and how? - X. Buy
Monday April 17th
CF211 - Metastatic CRC: hot topics
8:30-10:00 Auditorium 1 - Moderators: D. Arnold, P. Pereira
211.1 Understanding the biology of mCRC: what defines oligometastatic disease - D. Arnold
211.2 New options of molecular determined treatment - G. Masi
211.3 Ablation: is there a maximum lesion size and number? - F. De Corbelli
211.4 Current position of TARE and TACE - S. White
211.5 ctDNA: a new instrument for surveillance after ablative treatment? K. Garm Spindler
211.6 Bridging CRC mets to liver transplantation - A. Vitale
CF1212 - Paediatric IO: what is different in children?
8:30-10:00 Auditorium 2 - Moderators: M. Delle, F. Gomez Munoz
212.1 Optimising paediatric oncology imaging - T. Watson
212.2 Optimising the IO suite for children - A. Barnacle
212.3 Biopsy in paediatrics: requirements, indications and pathways - A. Dabadie
212.4 Vascular access devices: how to best support oncology care for children? - J. Runge
212.5 Angiography in children: practical tips for safe angiography and embolisation - M. Wildgruber
212.6 Ablation: procedural differences in children - M. Hawkins
SP 222 - Scientific papers 2
11:15-12:00 Auditorium 1 - Moderators: A. Nilsson, P. Pereira
222.1 Biomimetic thermochromic ablation phantoms to spatially inform immunogenic cell death and thermal stress - R. Morhard
222.2 A prospective multi-center trial on survival after microwave ablation versus resection for resectable colorectal liver metastases (MAVERRIC) - S. Ruiter
222.3 Primary tumor sidedness, RAS and BRAF mutations and MSI status as prognostic factors in patients with colorectal liver metastases treated with surgery and thermal ablation: results from the Amsterdam colorectal liver met registry (AmCORE) - H. Schulz
222.4 The role of intra-arterial 177Lu-Dotatate therapy in the treatment of hepatic metastases from neuroendrocrine tumors - V. Inampudi
222.5 Pancreatic cancer resistance features during irreversible electroporation (IRE) as a biomarker for the adaptive immune response and survival - F. Timmer
CF 242 - Renal cancer: challenging indications
15:00-16:30 Auditorium 2 - Moderators: M. Tran, G. Schmit
242.1 Resection in the solitary kidney setting - M. Tran
242.2 Ablation in the solitary kidney setting - A. King
242.3 Central renal cancer - F. Ridouani
242.4 Ablation in significant renal impairment: ever indicated? - C. Georgiades
242.5 T1b renal tumor ablation: is it time? - M. Calandri
242.6 Oligometastatic disease: role of IO - X. Buy
CF 251 - Why an IO should be on the tumour board: lung tumours
17:00-18:30 Auditorium 1 - Moderators: R. Suh, J. Palussiere
251.1 Lung tumour ablation: optimised technique - T. Iguchi
251.2 The location debate - T. de Baere
251.3 Complications after lung thermal ablation, is an outpatient stay reasonable? - R. Suh
BC 253 - Liver 2
17:00-19:00 Auditorium 3 - Moderators: J. Bell, A. Denys
253.1 Ablation of primary liver tumours: best indications and best technique - A. Najafi
253.2 TACE of HCC: how to deliver and how to manage the patient - J. Bell
253.3 Ablation of metastatic liver tumours: when and how? - M. Meijerink
253.4 TACE of liver metastases: which patients and how to manage it - P. Lucatelli
Tuesday April 18th
TF 322 - AI: from monitoring to robotics
10:30-12:00 Auditorium 2 - Moderators: F. Gomez Munoz, J. Chapiro
322.1 Radiomics and genomics - F. Gomez Munoz
322.2 Segmentation and AI for treatment planning and procedural assistance - B. Meyer
322.3 AI and follow up of IO treatments - M. Maas
322.4 From diagrams to algorithms: AI in decision making - J. Chapiro
322.5 Augmented reality and AI in education and training in IO - M. Krokidis
322.6 Robotics for percutaneous approaches - P. Wiggerman
SP 323 - Scientific papers 3
10:30-12:00 Auditorium 3 - Moderators: G. Carrafiello, T. Helmberger
323.1 Combinatorial application of cryoablation and immunotherapies in melanoma - C. Yakkala
323.2 Use of renal tumour biopsy prior to nephrectomy - an analysis of the British Association of Urological surgeons nephrectomy outcome data from 2012-2019 - V. Chan
323.3 Volumetric assessment of the periablational safety margin after thermal ablation of colorectal liver metastases: a multicenter and intersoftware study - C. Overduin
323.4 What happens beyond one year following interventional ablation, cementoplasty, and screw fixation for periacetabular osteolytic metastases? F. Lee
323.5 The effect of age on overall survival after percutaneous cryoablation for stage I renal cell carcinoma
323.6 MR-guided stereotactic ablative radiotherapy versus percutaneous irreversible electroporation for the treatment of locally advanced pancreatic cancer (CROSSFIRE): a randomised phase 2/3 trial - F. Timmer
323.7 Minimally invasive nephron-sparing treatments for T1 renal cell cancer in patients over 75 years: a comparison of outcomes after robot-assisted partial nephrectomy and percutaneous ablation - R. Lehrer
323.8 Impact of ophthalmic artery chemo-infusion in the treatment of children with bilateral retinoblastoma - N Shetty
323.9 Deep learning-assisted ablative margin analysis for MR-guided prostate cryoablation: feasibility and initial retrospective validation - C. Overduin
323.10 Research in interventional oncology: how sound is the evidence base? - N. Kaufmann
CF 342 - Neuroendocrine liver metastases
15:00-16:30 Auditorium 2 - Moderators: B. Wood, T. de Baere
342.1 Epidemiology and classification - N. Schaefer
342.2 Nuclear medicine diagnostic, follow-up and therapy - C. Hindorf
342.3 Systemic therapy: what's new - M. Pavel
342.4 Surgery: indications and limits for debulking purposes - T. Armstrong
342.5 Ablation: stand alone therapy and complement to surgery - R. Bale
342.6 Intraarterial therapies: palliative vs curative intent, how and when - D. Maiettini
CF351 - Planning percutaneous tumour ablation - what can we learn from radiotherapy and what we need to develop ourselves
17:00-18:30 Auditorium 1 - Moderators: A. Adam, L. Kenny
351.1 Planning in radiation oncology - from Chinagraph pencils to supercomputers - L. Kenny
351.2 The importance of tumour margins in percutaneous ablation - C. Sofocleous
351.3 Percutaneous ablation: the role of planning and assessment software - L. Solbiati
351.4 Stereotactic percutaneous tumour ablation: a practical tool or a

curiosity

to be admired and ignored? - R. Bale
Wednesday April 19th
CF 411 - Why an IO should be on the tumour board: metastatic colorectal cancer
8:30-10:00 Auditorium 1 - Moderators: D. Arnold, M. Meijerink
411.1 The ESMO perspective: guidelines 2023 - F. Martinelli
411.2 The ideal patient to treat: the surgeon - A. Fretland
411.3 The ideal patient to treat: the interventional oncologist: C. Sofocleous