CIRSE 2023 Highlights for Ablation Fanatics
If you are like me, you spent your entire summer holiday eagerly awaiting CIRSE 2023!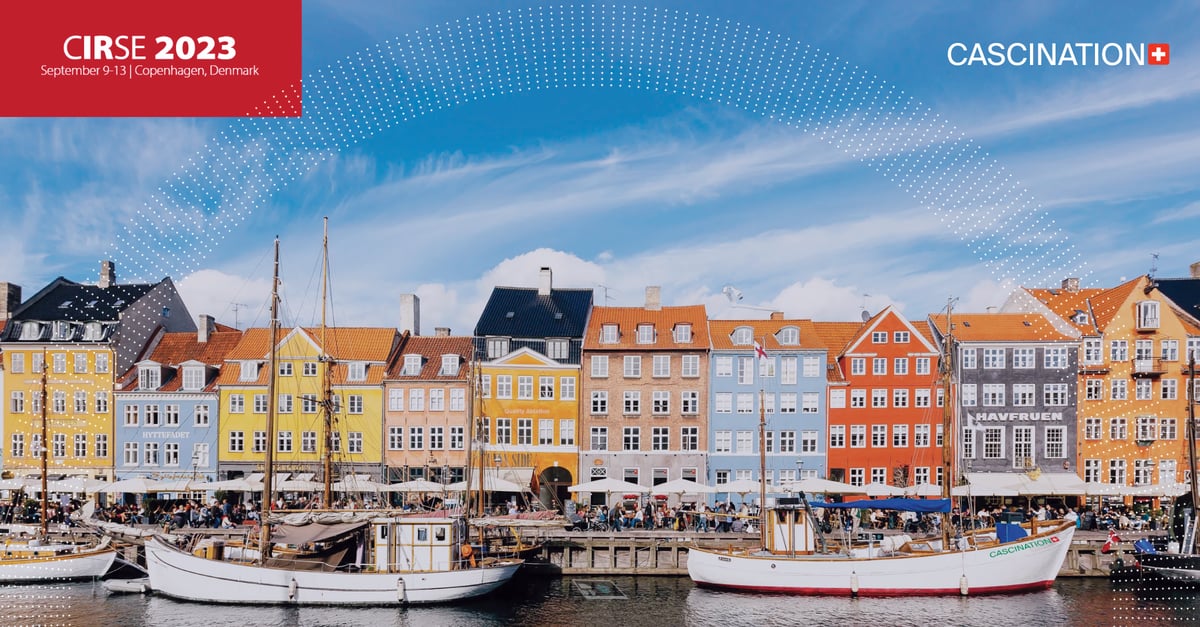 We hid 5 CASCINATION "elements" in the picture above. Can you find them?
To start - a shameless plug - the AI-driven CAS-One IR has been released for 6 months, and is now in 33+ hospitals with nearly 300 patients treated. In our experience being with physicians using it, it seems that Interactive planning mode has been saving physicians time, 3D reconstructions of the liver vasculature has been making trajectories safer, and an upgraded ablated tissue segmentation has given confidence that an ablation has met the desired margin.
If you have not seen this newest version of CAS-One IR, come by our booth any time for a demonstration
Now, for the scientific congress highlights - not even mentioning the multiple posters!
Saturday September 9th
FS 125 – New Frontiers for ablation
10:00-11:00 Auditorium 15 - Moderators: C. Koelblinger, M. Burgmans
Intrahepatic cholangiocarcinoma - O. Akhan
Pancreatic cancer - G. Narayanan
Prostate cancer - G. Petralia
Breast cancer - E. de Kerviler
CEC 165 – NSCLC management in 2023
16:15-17:15 Auditorium 3 - Moderators: A. Veltri, J. Palussiere
Why we need biopsies - S. Pilotto
Surgical approaches - P. Licht
SBRT - B. Jereczek-Fossa
Percutaneous Ablation - H. Torp Madsen
Ablation for Recurrences - L. Tselikas
Trans-pulmonary chemoembolization - T. Vogel
SP 176 – Advanced IO techniques: pushing the bar in IO
17:30-18:30 Room 20 - Moderators: M. Soulen, P. Sousa
Percutaneous CT guided ablation for lung lesions in a single tertiary unit - a 12 year cohort - O. Lewis
Intraprocedural image fusion assessment of ablation completeness reduces local tumor progression following percutaneous liver thermal ablation - K. Verdonschot
MR-guided stereotactic ablative radiotherapy versus percutaneous irreversible electroporation for locally advanced pancreatic cancer (CROSSFIRE): a randomised phase 2/3 trial - F. Timmer
Sunday September 10th
ERT 213 - The present and future of HCC management
8:30-9:30 Auditorium 15 - Moderators: J. Nault, L. Crocetti
EASL Guidelines: what's new since the last version - B. Sangro
Downstaging to resection/transplantation using TARE - I. Bargellini
The future role of systemic treatment to switch from a non-curative to a curative approach - P. Nahon
FS 223 - HCC: which patients, which tumors
10:00-11:00 Auditorium 1 - Moderators: A. Denys, F. Orsi
Ablation: enough evidence to treat nodules > 3cm - L. Crocetti
TACE: what can be learned from histopathological correlations - R. Klöckner
TARE: the rebirth in HCC management - R. Salem
Loco-regional therapies and immunotherapy in advanced HCC - N. Goldberg
ERT 224 - Applying for IR specialty status: lessons learned
10:00-11:00 Auditorium 3 - Moderators: M. Lee, P. Patel
How we achieved specialty recognition in the US - P. Patel
Specialty status application in Ireland - C. Cantwell
The view from Spain - A. Madrid-Vallenilla
Brazilian experience - J. Motta Leal Filho
FS 274 - Interventional radiology: tomorrow is already upon us
17:30-18:30 Auditorium 10 - Moderators: P. Paprottka, Z. Haskal
AI in IR - B. Wood
Ablation simulation and verification systems - L. Solbiati
Stereotactic navigation - R. Bale
Robotics - P. Paprottka
Monday September 11th
FS 314 – Real-world evidence in interventional oncology: from palliative to curative applications
8:30-9:30 Auditorium 15 - Moderators: P. Pereira, T. Kroencke
Effectiveness outcomes of chemoembolisation with irinotecan-eluting beads used in CRLM in 98 patients treated in curative, first line or intensification settings and 46 patients treated in a palliative setting (CIREL) - A. Gjoreski
Reimbursement recommendations compared to real-life use: safety and effectiveness of radioembolisation with Y90 resin microspheres in 332 French patients - T. Helmberger
Real-world prospective application of microwave ablation with curative intent in 500 patients with metastatic colorectal cancer (CIEMAR) - F. Orsi
An update on the prospective observation multicentre study on percutaneous electrochemotherapy (RESPECT) - A. Kovács
ERT 324 - Role of local cure in liver mCRC
10:00-11:00 Auditorium 15 - Moderators: C. Sofocleous, P. Pereira
The oncologist's perspective - D. Arnold
Surgery: advances and unmet needs - H. Pinto Marques
Stereotactic body radiotherapy - A. Zygogianni
Percutaneous ablation - B. Gonçalves
CM331 - CIRSE meets ESMO
11:30-12:45 Auditorium 1 1- Moderators: A. Hatzidakis, D. Arnold
Therapeutic algorithms for HCC - A. Vogel
Percutaneous ablative therapies for HCC - L. Crocetti
Endovascular treatment for HCC - P. Pereira
Therapeutic algorithms for liver mets - D. Arnold
Percutaneous ablative therapies for liver mets - M. Meijerink
Endovascular treatment for liver mets - J. Ricke
MPI 341 Clinical trials: cutting edge in cancer: Meet the PI
13:00-14:00 News on stage - Moderators: R. Kloeckner, A. Tam
Stereotactic ablation of colorectal liver metastasis aided with intra-arterial CT (Computed Tomography) hepatic arteriography and ablation confirmation software assessment (STEREOLAB) - I. Paolucci
Transarterial chemoembolization using Idarubicin versus Doxorubicin chemoemulsion in patients with hepatocellular carcinoma (IDADOX) - J. Choi
COLDFIRE-III trial: perivascular and peribiliary colorectal liver metastases (0-5 cm): irreversible electroporation versus stereotactic body radiotherapy - D. Vos
Comparison of chemotherapy combined with percutaneous electroporation and chemotherapy alone in the management of locally advanced gallbladder carcinoma (GBC) - N. Kalra
SP 365 - Critical imaging in IR
16:15-17:15 Room 18 - Moderators: G. Kalarakis, C. Arnoldussen
Identifying proliferative HCC on pretreatment CT image: implication in therapeutic outcome after transarterial chemoembolization - Y. Xiao
Prospective, multi-center study of ablation confirmation software for microwave ablation of liver lesions: effect on operator decision-making, technical success, and technique efficacy - B. Odisio
Ultrasound vector flow imaging in the healthy femoral trajectory - M. van Helvert
Ex vivo results of CT-guided cryoablation in porcine liver - improved thermal sensitivity using virtual monochromatic imaging derived from photon counting detector CT data sets - T. Kroencke
Ablative margin quantified by intraprocedural CT is a stronger predictor of ablation outcomes than initial follow-up CT in colorectal liver metastasis thermal ablation - Y. Lin
Tuesday September 12th
FS 422 – Bone tumour management: what's new in 2023
10:00-11:00 Auditorium 10 - Moderators: J. Garnon, A. Kelekis
Ablation of bone tumours: which technique, when - U. Pua
Spine electrochemotherapy - F. Deschamps
Combined approaches - M. Callstrom
TACE for bone tumours - A. Ryan
IFS 432 - Lung metastases
11:30-12:30 - Auditorium 15 - Moderators: F. Deschamps, C. Sofocleous
SBRT for oligometastatic lung disease - B. Jereczek-Fossa
Designing a safe and efficacious ablation - R. Suh
Ablation for oligometastatic lung disease - D. Filippiadis
When the patient is a child - F. Deschamps
SY 438 - CASCINATION: Current experience with AI in tumor ablation
13:00-14:00 - Auditorium 15 - Moderator: G. Richter
AI advances in tumor ablation - N. Shaida
Evidence and starting a new Quality Ablation program - M. Maurer
MAVERRIC: a prospective, multicenter study on SMWA vs resection - S. Weber
Wednesday September 13th
FC 511 Renal cancer: where do we stand?
8:30-9:30 Auditorium 10 - Moderators: G. Lopes Pinheiro Martins, A. Mahnken
What are the indications? - C. Georgiades
What ablation technique? - R. Grasse
What I would like to read in the new guidelines - C. Bent
Loco-regional therapies for RCC metastatic disease - T. Jakobs
CBD 521 Renal cancer ablation
10:00-11:00 Auditorium 10 - Moderators: S. Stojanovic, C. Georgiades
Cystic RCC - R. Arellano
Central and endophytic RCC - G. Carrafiello
T1b RCC - O. Graumann
Tips and tricks to avoid a complication - E. Galves Gonzalez