CAS-One IR – Benefits beyond costs
As a non-reimbursed medical product, CAS-One IR must justify its economic costs through its clinical and economic benefits. To better understand how to quantify the benefits of CAS-One IR for patients, clinicians, and hospitals, we have interviewed Stefan Aebischer, PhD, CASCINATION's Head of Healthcare Economics.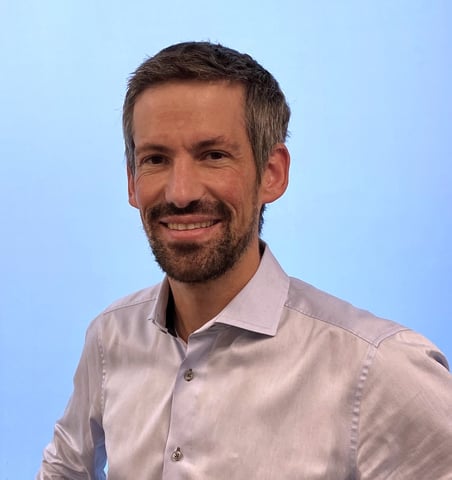 Why are economic considerations for CAS-One IR even necessary?
Based on the evidence of more than 30 scientific publications, it is undisputed that Quality Ablation with CAS-One IR provides significant clinical benefits for patients and doctors. However, when hospitals are investing in new technologies, they also assess whether the investment is sensible from an economic viewpoint. Since the use of CAS-One IR is not separately reimbursed, its economic costs are to be justified through the clinical and economic benefit it brings to hospitals.
Currently, it is difficult for interested clinicians and economic decision makers to immediately and entirely assess all the relevant benefits, which are multi-dimensional - technical, clinical, and economical. It is therefore important to precisely explain and quantify the benefits that come with the use of CAS-One IR.
How do you quantify the benefits of CAS-One IR?
Within a hospital, different benefits are relevant to different stakeholders. For clinicians, the technical and clinical benefit are of interest. After seeing the system, they realize how important certain technical functions are, like CT/MRI fusion, AI-based segmentation of relevant anatomical structures, simulation of ablation volumes, realization of save and steeply angulated needle trajectories or ablation confirmation are. Only a seamless integration of these functions in one system can lead to clinical results as our users have reported in more than 30 scientific publications.
The economic decision-makers evaluate CAS-One IR primarily based on economic value. We have an approach allowing us to quantify economic benefits and to determine return on investment.
What are the economic benefits of CAS-One IR?
On the one hand, the use of the system increases the efficiency of ablation treatments. More treatments with higher complexity can be performed in the same time with the same resources. This can also have secondary effects in associated departments. For example, more patients can be treated together with surgery.
On the other hand, the use of the system significantly reduces costs. Lower complication rates lead to a significant reduction in complication costs. Due to lower local recurrence rates, costs for re-ablations (or re-biopsy) can also be saved. We also see that fewer ablation needles are used in some cases. Leading physicians typically spend only 30-40 minutes in an ablation treatment, regardless of complexity. Planning and coordination efforts are reduced as a result. Finally, the clinical team is no longer exposed to radiation, which also has a monetary value.
These revenue increases and cost savings are compared with the costs of using the system. In more than 50 cost-benefit analyses and 16 countries, the benefits were always higher than the costs. The results of such an analysis were presented by Dr. Lukas Lürken (University Hospital Regensburg) at CIRSE 2022.
What patterns do you see in these analyses?
Our results show that the composition as well as the magnitude of the benefits depend on various factors. Key factors are the current clinical practices of the hospital and the design of the respective healthcare system. In contrast, the reimbursement situation within a healthcare system plays a rather subordinate role.
Can you give an example related to a healthcare system?
The NHS system in the UK is designed in such a way that hospitals have an incentive to keep treatment costs as low as possible. Accordingly, the use of CAS-One IR has benefits that aim in this direction, like lower costs through the reduction of re-ablations (due to reduced recurrence), complications and cost-intensive treatments (e.g., surgery, TACE, or chemotherapy).
What exactly is the issue with reimbursement?
The issue is twofold. First, reimbursement for ablation is only a fraction when compared to surgery. Although, latest clinical studies show same outcomes in terms of overall survival, hospitals don't have an immediate economic benefit from replacing high reimbursed surgery with lower reimbursed ablation. Second, investing into patient wellbeing and state-of-the art outcomes is not rewarded. Hospitals that offer less complex sonography-based ablations under sedation receive same reimbursement compared to those that use advanced imaging techniques, offer general anesthesia and additional support technology.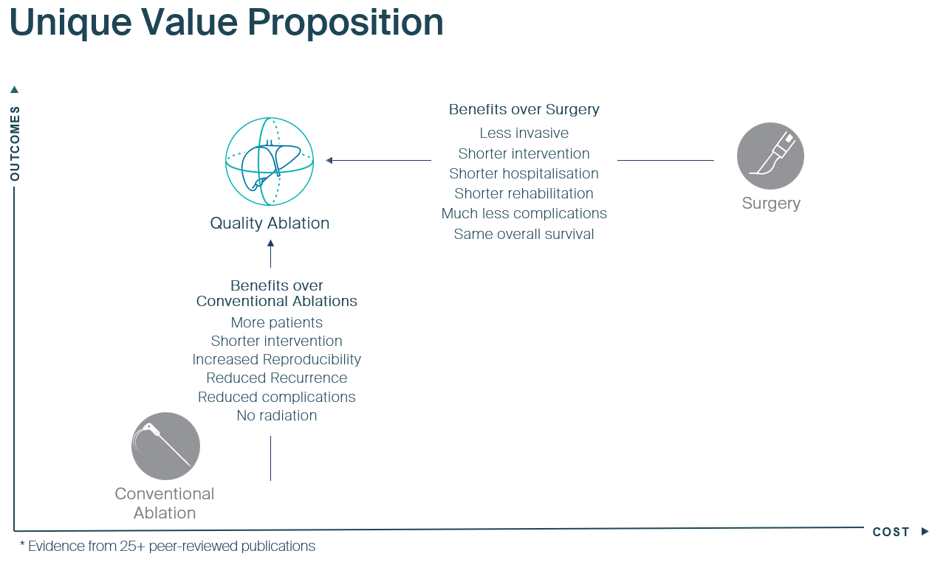 At the same time, we have proven that CAS-One IR offers significant economic upside without reimbursement, otherwise we would not be able to look at almost 10'000 patients treated in more than 20 countries around the world.
Do economic decision-makers focus only on the economic benefit for the hospital?
No. A positive economic result is required but decision-makers also include other aspects in their decisions. They also value the benefits for patients. For example, the increase in treatment quality relative to standard ablation approaches or the increase in quality of life relative to surgical approaches. Reputational considerations regarding the use of innovative technologies or the promotion of research activities can also play a role. Finally, the use of modern treatment technologies makes a hospital attractive as an employer. Radiologists, for example, greatly appreciate the fact that they are no longer exposed to radiation during ablation treatments.
Why does CAS-One IR cost more than some other navigation systems?
First, I would like to clarify that CAS-One IR is not a navigation system. It is a decision support system with integrated navigation functionality. Assisting users during navigation of instruments makes up only a third of its capabilities. In addition, the system provides comprehensive treatment planning and margin verification technology, which goes beyond a pure navigation or even robotic system. Only the combination of all of these functions allows that more patients can receive better ablation treatments. This holistic clinical approach is our strength and leads to the excellent clinical results shown in the numerous scientific publications.