An event-heavy May for CAS-One IR
Often we try to write a blog post for a specifically interesting, action-packed congress. But in May, we had 3 nearly-simultaneous congresses engaging with physicians in 3 different parts of Europe, and decided to combine our summary into one post. Each of these congresses was an opportunity for us to showcase our new AI driven software - which is two months into its launch, and now in 10+ hospitals, and closing in on 100 patients treated.
It is always inspiring to us here at CASCINATION when an doctor who does percutaneous ablations, and has never seen our system in person, gets a hands-on demonstration. This is because most of the time, their eyes light up when they realize the capabilities of CAS-One IR and how it can help their patients. The next step is allowing us to prove our value of convincing their administration that it is something they should invest in. We do this step successfully around the world, which is why we are in 55 hospitals in 16 countries to date.
The first event we attended, was Cryoablation Spring School hosted by Kantonsspital Winterthur and Boston Scientific. About 100 attendees came to a Zurich hotel for this one day event focused on the science and evidence behind cryoablation in lung and kidney tumors.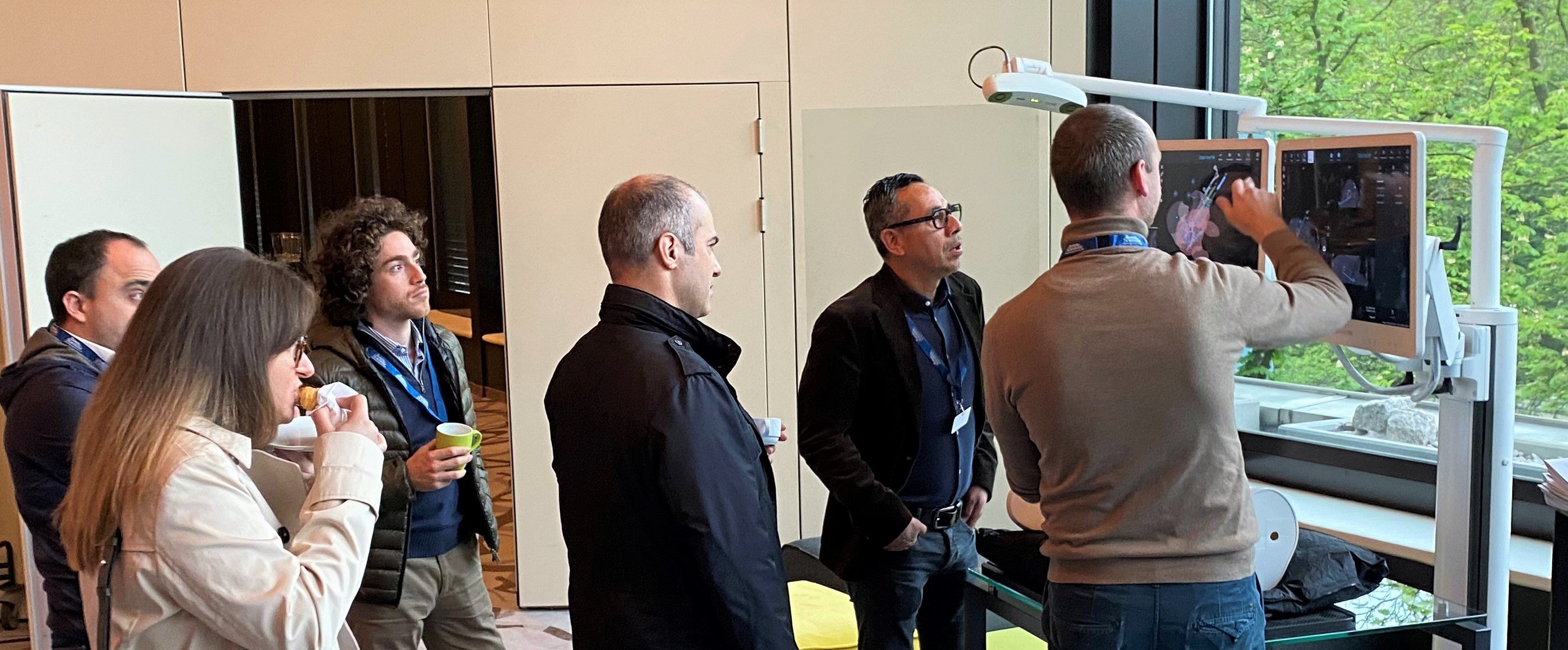 The organizing physician, Dr. Arash Najafi made the agenda very appealing by combining normal presentations with the current evidence in these therapies, mixed in with video cases, and most importantly, discussions from referring physicians such as surgeons, and radio-oncologists.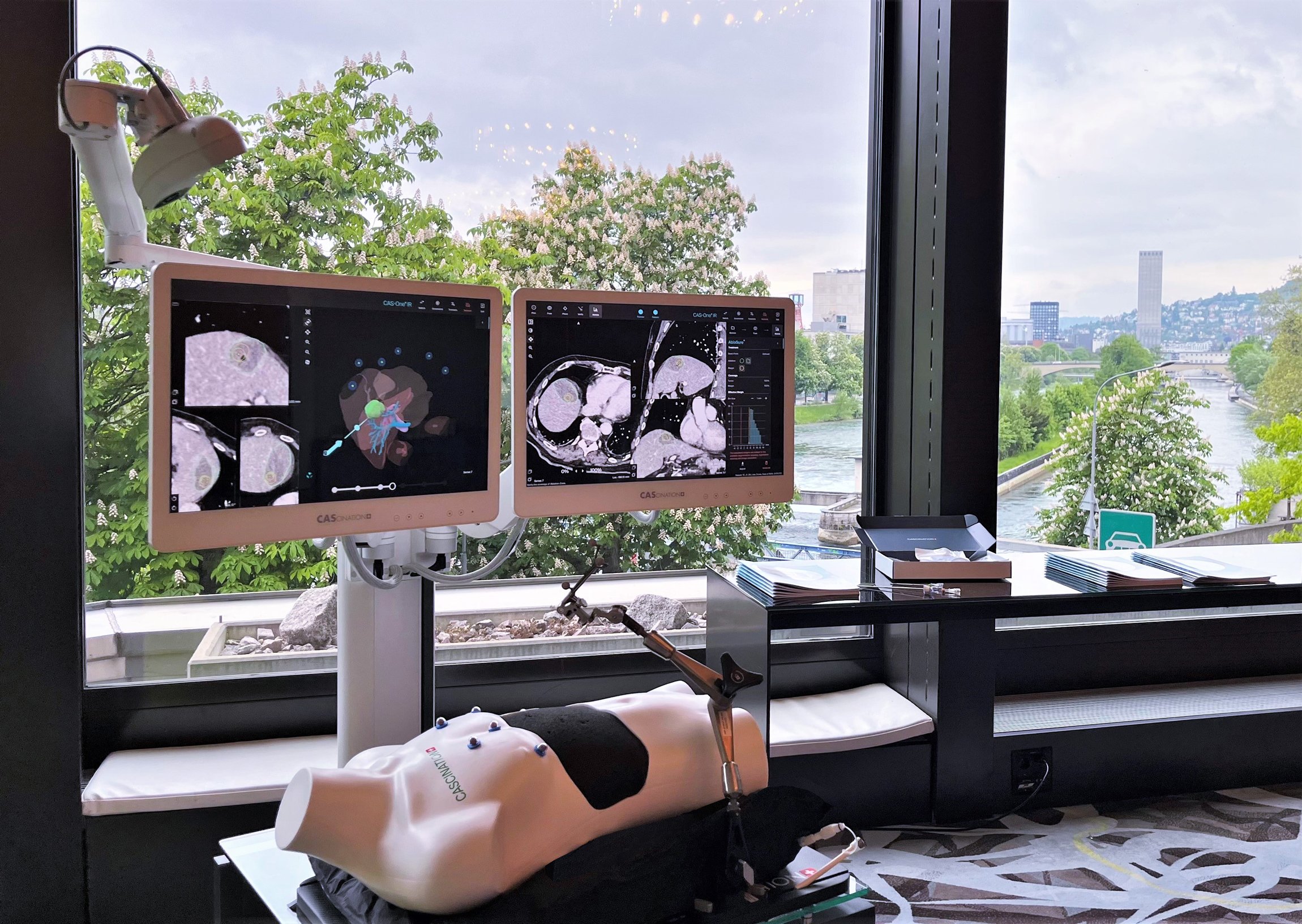 In a smaller event such as this one, it is rather easy to talk to the attending doctors, as there are not 47 companies trying to get their attention. Our discussions were not rushed at all, enabling us to fully showcase each step of Quality Ablation, as well as describe the new AI-based engine.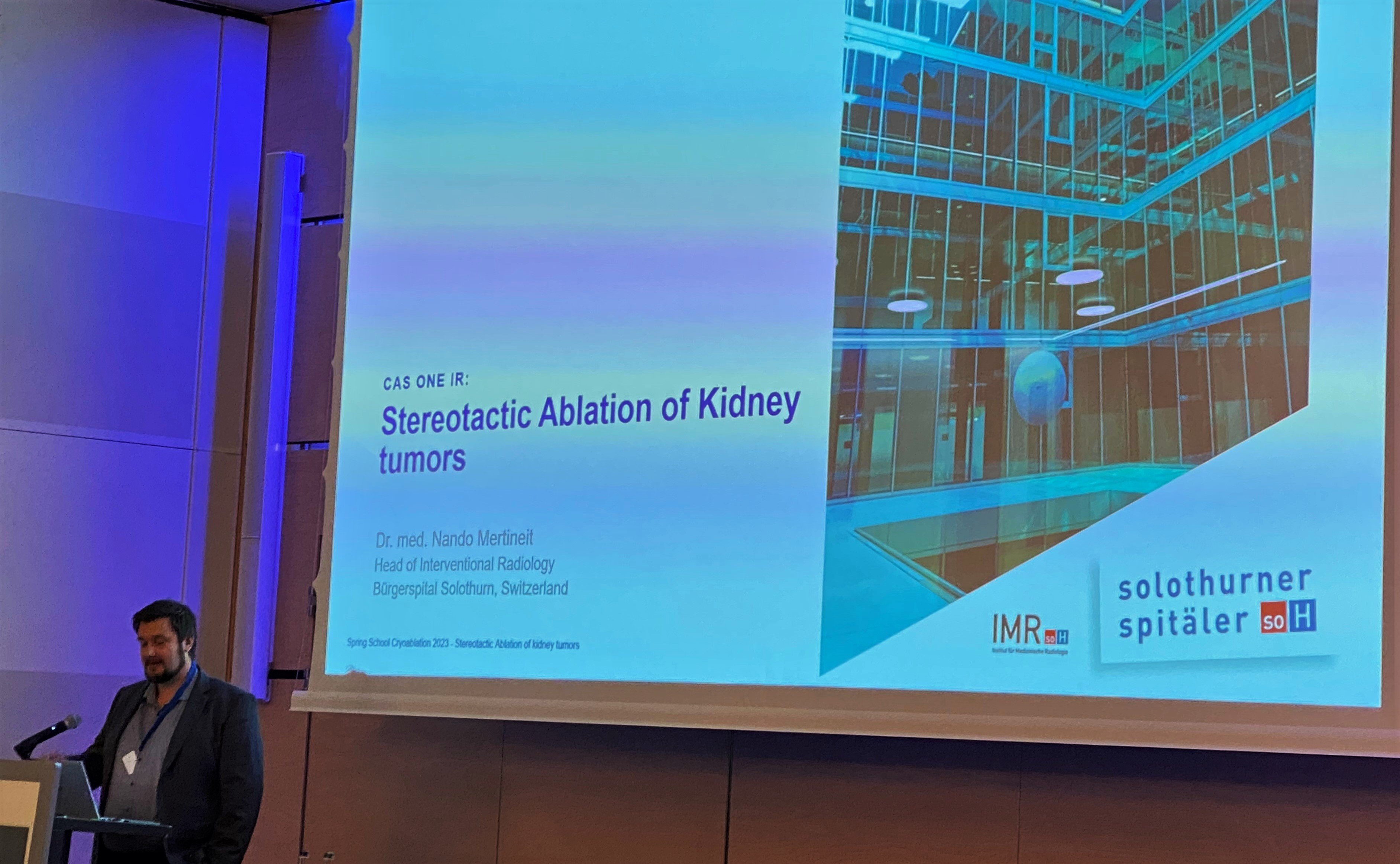 Perhaps most valuable, was Dr. Nando Mertineit from Solothurn CH, giving a presentation on why CAS-One IR is so valuable in cryoablation of lung and kidney, all due to his own 4+ years experience with the system.
Immediately after this event, we flew to Murcia in Spain, for the SERVEI (Spanish Society of Vascular and Interventional Radiology) meeting that is held every 2 years. In addition to eating magnificent Spanish food every night (albeit starting at 22:00, which is NOT the norm in Switzerland), we met dozens of physicians all across Spain (seriously, from Canary Islands, to Mallorca) who are pushing hard with their administration to get CAS-One IR immediately.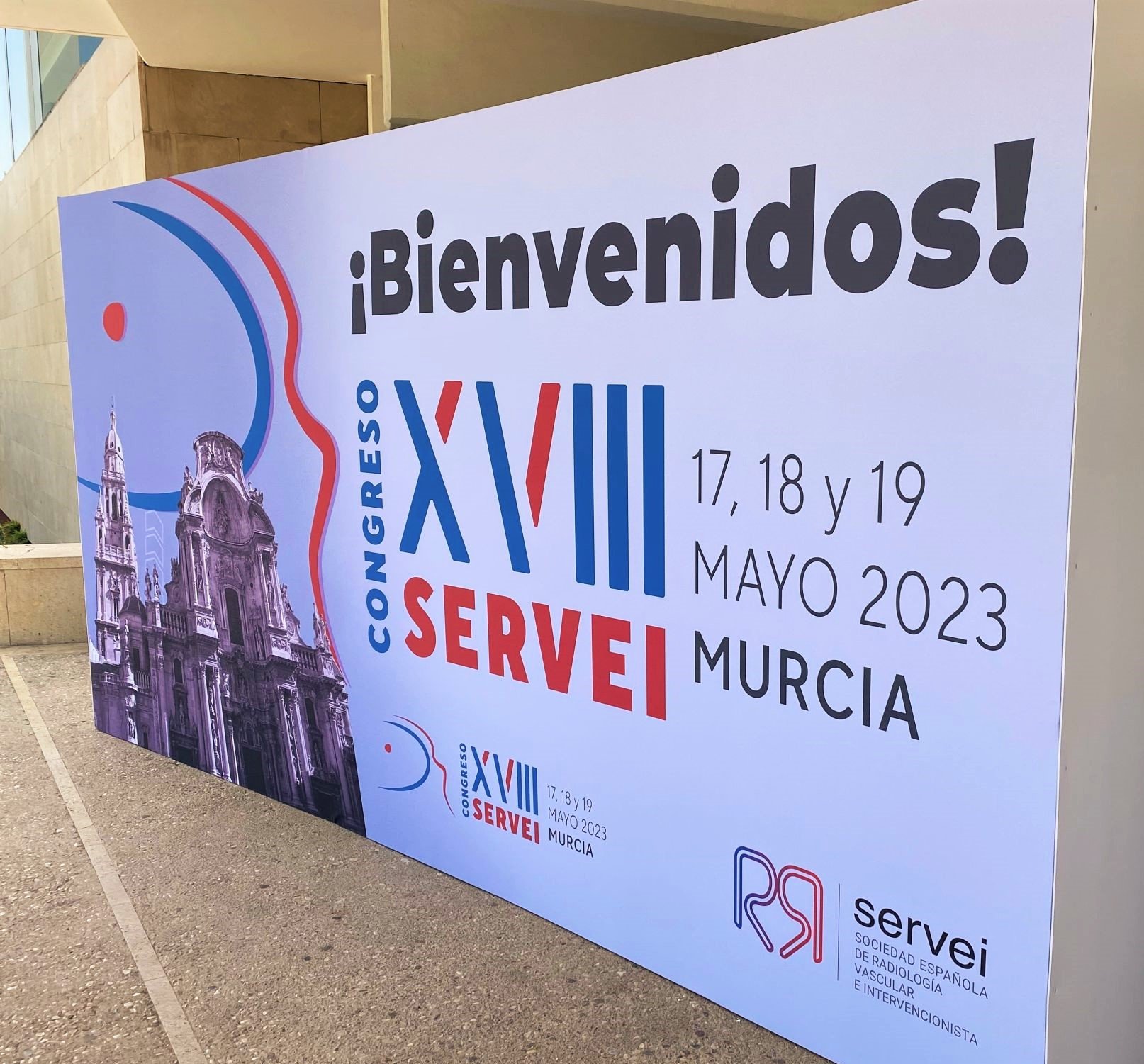 Spain has 9 Quality Ablation centers – and could add 4-5 more before the year is over. Our new version 4.1, driven by AI, really turned heads and impressed, from planning to avoid vascular structures (Now visible in a reconstructed 3D model), to AblaSure 2.0, which works, in ~6 seconds, near-perfectly, and directly gives quantitative metrics on what has been ablated.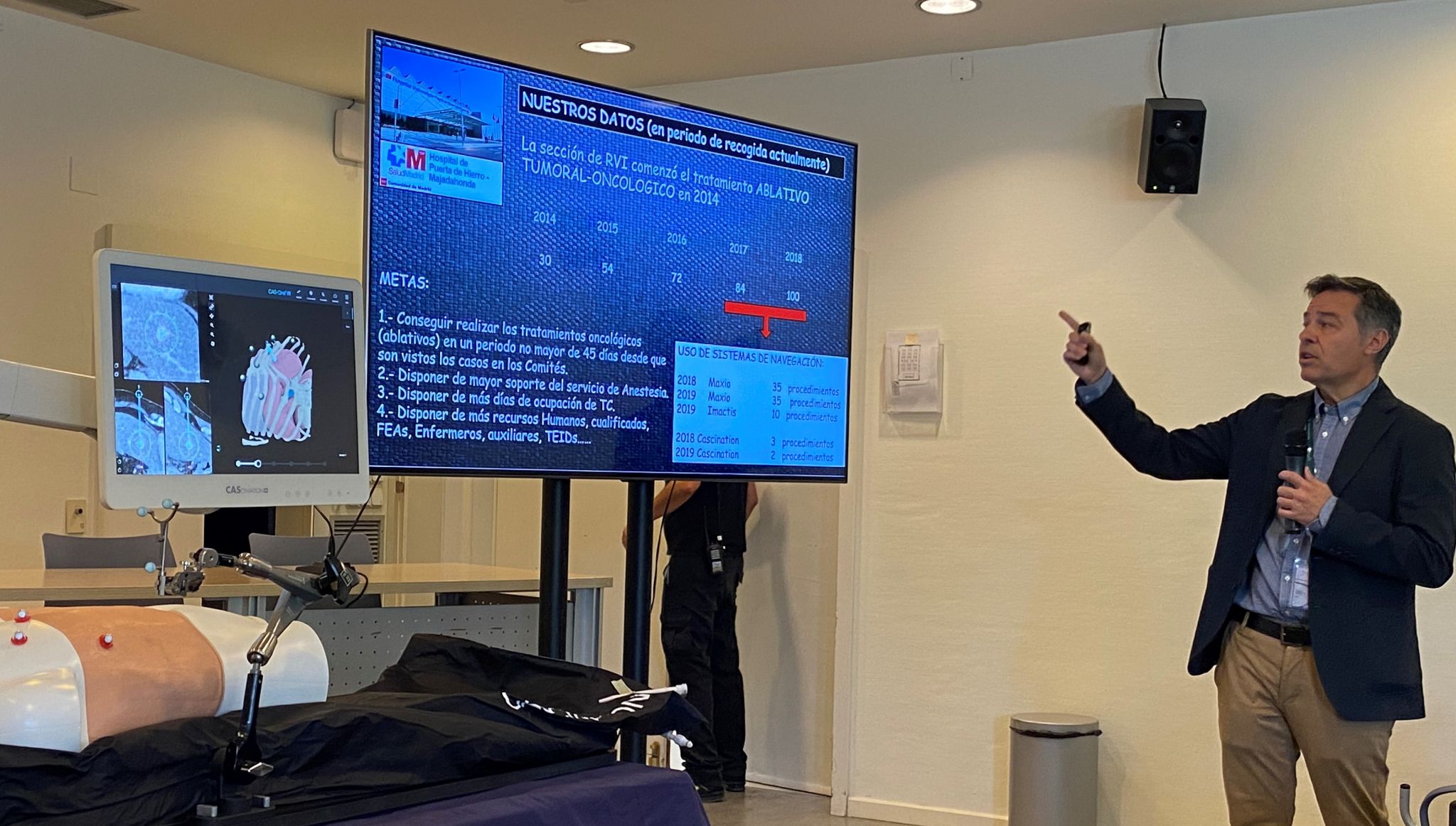 Thanks to Dr. Santiago Mendez Alonso for giving a 30-minute presentation on his experience with CAS-One IR. It is very impactful hearing him give first-hand experiences of how important it is to his ablation practice. This is notable for two main reasons. One - he is very experienced with other "navigation / robotic" solutions, and two – he hasn't even used the AI-Driven 4.1 yet! Thanks to our distribution partner Dismeval, for ensuring that our success together in Spain is always on the right path.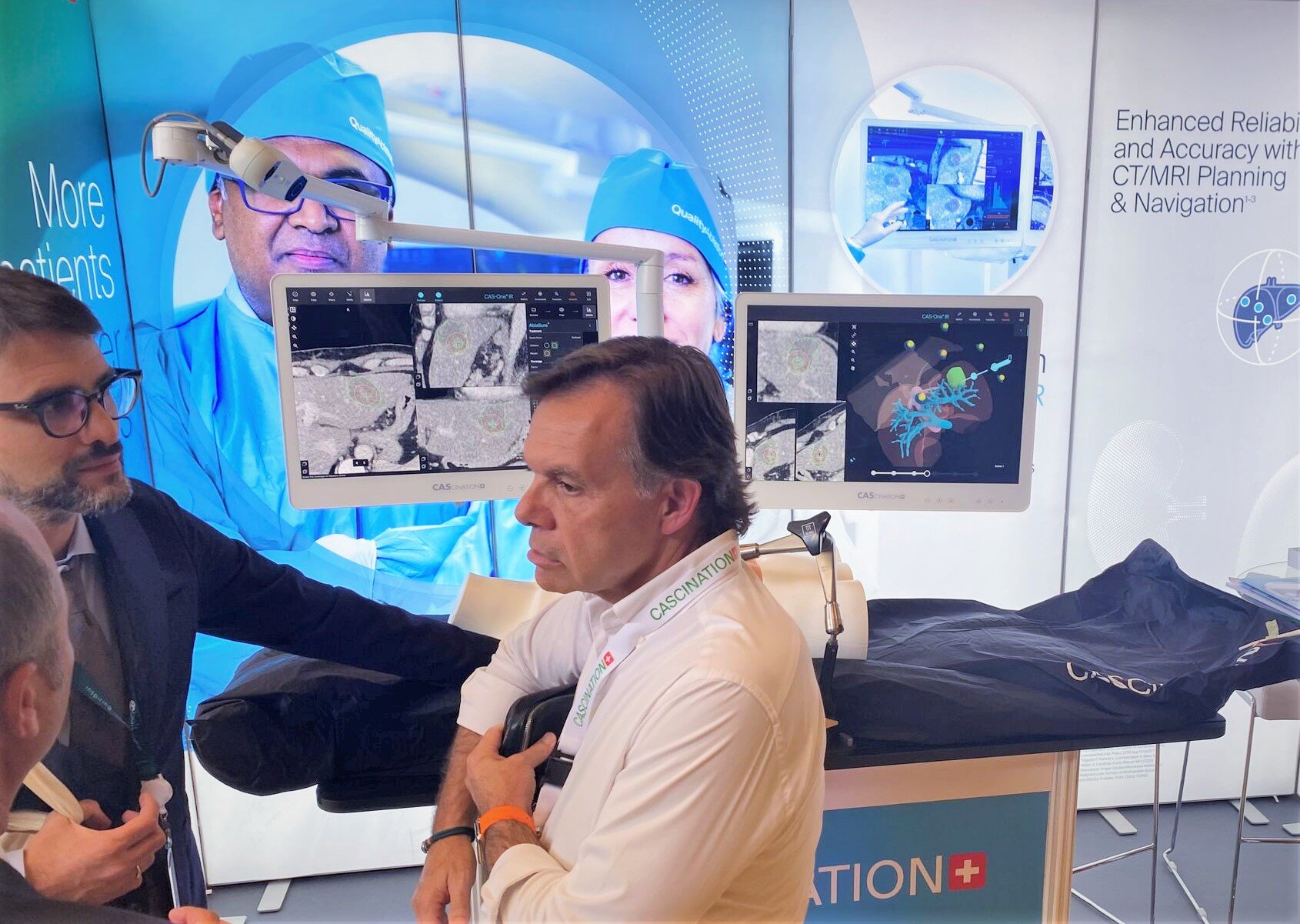 Finally, we attended IOUK in Southampton – the southern coast of the UK. While the weather was great and maybe we took advantage and jumped into the English channel one morning, the focus was inside.




Again, since this is the second most important congress in the UK after the BSIR annual meeting, the audience was smaller allowing us to fully engage interested parties in CAS-One IR.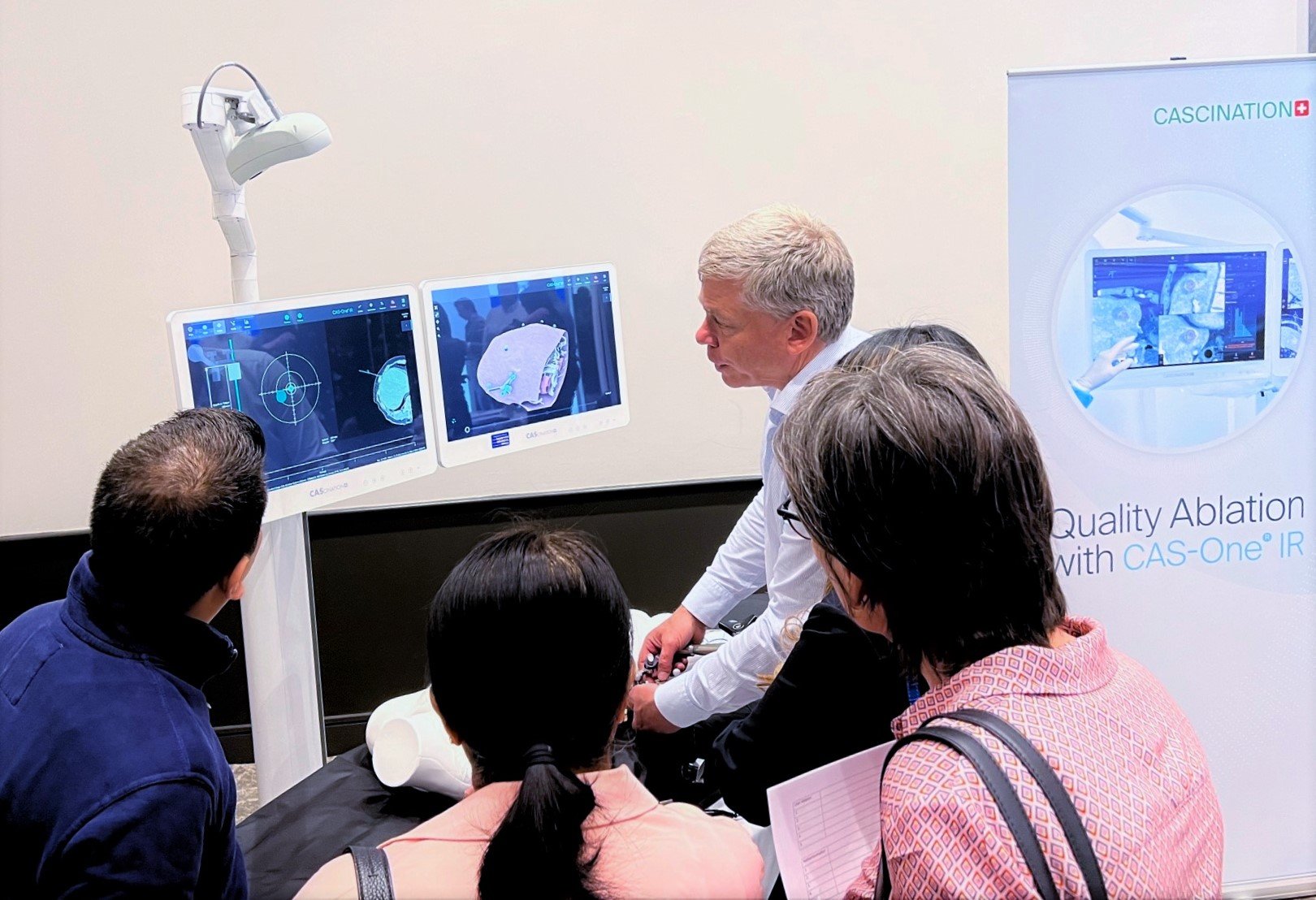 Thanks to the organizers and we look forward to soon being 5-6-7 total installations in the UK before the end of the year.
One more congress for us this summer! Stay tuned!